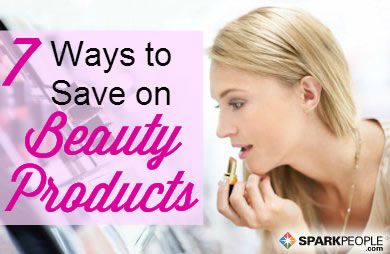 These days, a monthly stock up of skin care products, shampoo, conditioner and makeup can cost you a pretty penny, even if you don't buy top of the line beauty products. And if you're like the average woman, you'll shell out $15,000 on makeup alone in your lifetime! Going out on the town bare-faced suddenly doesn't sound quite so scary now, does it? The good news is that if you can't bear to break your current beauty regime, you don't have to change it up too much in order to save some serious cash.

These seven beauty-product budgeting tips will allow you to be the beautiful woman you already are without going broke.

Budget Beauty Tip #1: Shop Sales at Beauty Supply Stores
Did you know that many beauty supply stores are open to the public? Sure, there are certain items that only salon and spa professionals can buy (typically professional hair color and developer), but there are a plethora of beauty products available to the average woman who wants to save. And, usually, you don't even have to wait for sales to save a few bucks at these stores! Simply pop in to your local beauty supply boutique or beauty supply chain store for larger bottles of your favorite salon shampoo, conditioner and hair styling products. Professional skin care products and high-end makeup lines are available at discounted prices as well. Always remember to sign up for the mailing list after your transaction to get special deals and sales sent directly to your email inbox.

Budget Beauty Tip #2: Snag Free Samples and Special Deals Online
We think this is the Internet's best kept budget beauty secret! There are several websites where you can sign up and get a handful of your favorite beauty products for free. Though some of these samples and deals are given to you upon purchasing another product, they're still free and will save you money you otherwise would've spent at the store. For example, websites like Beauty.com will give you free samples--that you select--with every purchase you make, plus free gifts with other qualifying purchases. ShopLocal.com is also a great, free service from the Gannett newspaper company that provides you with local ads, coupons and promo codes to save money on your favorite health and beauty products.

Budget Beauty Tip #3: Get Rewarded with Beauty Rewards Cards
Whether you're shopping expensive makeup lines at the mall, heading to the drugstore for your favorite mascara and even shopping online, if you're not taking full advantage of signing up for beauty rewards cards, you're not getting the most bang for your beauty buck. Beauty product stores like Sephora will give you points on your rewards card for every dollar you spend. When those points add up, they'll offer you lovely freebies like limited edition products, and even things you already need and use like moisturizer and shampoo. Pharmacy chains, such as CVS, also offer rewards programs that give you money back after spending a certain amount on beauty products in the store, "birthday bucks," and exclusive coupons in your email inbox.

Continued ›
Article created on: 5/7/2013