Whether you've heard tales of the "runner's high" or hear
Elle Woods' infamous quote about the ties between exercise, endorphins and happiness
echoing in your head at the gym, it's no secret that regular exercise has a reputation for making people feel good. In the professional health and wellness community, there has been increasing interest in the ways in which working out can promote wellbeing and
self-esteem
among both clients and research studies.
For anyone struggling with self-esteem or body image issues, though, such ideas seem far-fetched at best and fictional at worst. Exercise is hard, after all, so why would struggling help anyone feel better about themselves?
Read More ›
On the first day of a new year, resolutions are like a fresh snowfall: bright and clean, unmarred by even the slightest failure. But by the time February rolls around, life's daily challenges and pressures have started to leave their muddy footprints, gradually turning the once-pristine snow into dirty slush, until you eventually forget how brilliant and full of promise it once was.
It's perfectly normal for even the most carefully chosen goals to lose some of their luster as the novelty of the new year starts to fade. That doesn't mean you have to resign yourself to wallowing in the mud of defeat, though. There are always fresh, unsullied opportunities waiting just around the corner, and every day is a chance to strike out on a brand-new path.
Instead of beating yourself up for neglecting your workouts or straying from your healthy eating plan, strap on your proverbial boots and try some of these expert-recommended strategies to keep your goals in sight well after the ball has dropped.
Read More ›
At SparkPeople, we love helping people accomplish big goals—but we believe it's equally important to celebrate the small successes along the way. Each week in the Spark Spotlight, we'll check in with a featured member about his or her proudest moments, biggest challenges and advice for others on living, thinking and feeling healthier. We hope these quick snapshots will help motivate you to keep moving steadily toward your own goals, week by week.
This Week's Spotlight:
Carolyn (
CESUMMERFORD
)
Age:
63
Location:
Glennville, Georgia
Small Success of the Week
Carolyn recently shared in the
Community Goal Feed
that she can now fit into a size XL shirt (down from a 3XL), and she's wearing a size 20 pant (down from a size 28)!
Read More ›
Think back on the last three or four goals you set for yourself. Did they have to do with your physical appearance or career? Chances are the answer is yes. Wanting to lose weight, get fit, get a promotion, eat healthier or be more productive are all admirable goals, but when did we lose sight of making our emotional health and wellness a priority?
As a psychotherapist for more than 40 years, I have been struck with finding time and time again that the one key factor that underlies our sense of happiness and wellbeing is not what we achieve "out there" but rather it is our underlying sense of self-esteem that makes or breaks our sense of wellbeing. It is the underlying filter that we see the world. If we don't truly love—or even like—ourselves, nothing from the outside will truly fill the void from within.
If you are like most of my clients over the years, the phrase, "I'll be happy when…" typically ends with responses such as "I'm thinner", "I get in better shape", "I find a mate", "I get a better job", "I get a promotion", " I have children", "I move" or "I have more money". What do responses all have in common? They all assume that things on the outside hold the key to happiness. Many successful, witty, attractive people who by society's standards "have it all" lack inner self-confidence and self-esteem, though. Losing weight, getting fit, earning a promotion or finding a mate are all great, but they do not ensure anything more than a temporary high if a nagging sense of low self-esteem still lurks from within.
Read More ›
In 2010, Diane (
DIANEDOESSMILES
) weighed 288 pounds and was confined to her power chair 97 percent of the time. She had depression and an infection in her big toe that led to a diabetes diagnosis. When she went to the doctor seeking help for back issues, he told her that the pain was because she was fat. "I hated him for saying it, but that got my attention," Diane recalls. "What was I doing to myself?"
Because of her health issues, Diane was encouraged to enter an assisted living facility. When she learned she couldn't take her cat with her, though, she decided it was time to start making changes on her own. She tried another online program but had trouble understanding their system. Diane says she was "hit and miss, but mostly miss" with exercise because her pain level was so high. Although Diane went from 288 to 256 pounds, eventually she found herself on a four-month plateau. Feeling like her weight loss shouldn't have stalled already, she decided it was time to reach out for help and joined SparkPeople.
Breaking Out of the Diet Mentality
Even though she joined SparkPeople, Diane didn't initially follow the program. She was eating below her recommended calorie and nutrient ranges and deprived herself of many of the foods she loved. Despite getting down to 174 pounds, Diane was not happy. "Ever notice the first three letters of the word
DIE
ting? I can't help but to think that was on purpose," she jokes.
Diane used
quick-fix strategies
instead of permanent, sustainable lifestyle changes, so, even though she was still consistently logging into SparkPeople,
she quickly gained the weight back
. Diane was very discouraged when she found herself over 200 pounds again.
Determined to turn things around, Diane started
blogging
on her SparkPage. "This is an amazing tool that many people don't use because they think what they say isn't worthy or important to write about. I felt the same way, but eventually, I found it to be a useful tool," she says. "Over time, more people started to read my blogs. It's not about followers, [though,] It's about me getting healthier- physically, mentally and emotionally. I love blogging now."
Diane's 3 Secrets to Success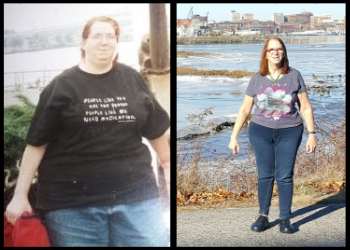 Over the past six months, Diane has maintained a 128-pound weight loss. She credits her success to three things:
Tracking food and exercise daily. "I eat within the guidelines SparkPeople has set for me," Diane explains. "I am in the diabetes program and know that I need to keep tracking in order to be successful, staying [within] my calorie, protein, fat and carb ranges." Diane also keeps a close eye on her fiber intake, since that helps with her feelings of fullness and satisfaction.
An attitude of "progress, not perfection." "I learned from others who post that phrase in the Community Goal Feed that I don't have to be perfect in order to be successful," Diane says. "I even painted a rock that says 'progress, not perfection' and keep it on my kitchen counter so I see it often." By focusing more on what she has accomplished and what she's capable of achieving, Diane gives herself permission to make mistakes, learn from them and move forward.
The 5% SparkTeam Challenge. "When I joined SparkPeople, somehow I met a most wonderful Sparker (HEALTHYGRAMMY49) who invited me to join the 5% 2011 Winter Challenge," Diane recalls. Since then, Diane has participated in all of the seasonal 5% Challenges, being a "motivational leader" in the challenge for many years. She says the challenge helps her stay on track and holds her accountable to her goals. As a participant in these challenges, Diane started drinking more water, learned to tolerate more fruits and vegetables, and began exercising more. "I am a competitive person who wasn't going to let my team down, [and] that meant I had to exercise," says Diane. "At first, I could only do 10 minutes, three times a week. With help from my teammates, I came up with a plan to do chair exercises and it worked! Now I'm stronger than ever."
Diane even met one of her best friends,
MARYANNGI
, in the challenge and they were able to meet in person. She encourages others to find
SparkTeams
that motivate them and give them the support they need.
Setbacks Will Never Stop Her
Throughout her journey to health, Diane has faced health challenges that she continues to overcome. Three years ago she had a bone infection that resulted in a toe amputation. "Despite the hurdles, I know I'm in the driver's seat," she proudly states. "It didn't discourage me because I was finally walking without any aids. Last year, I gave away my power chair and now I can walk more than three miles a day!"
Diane has learned to look for the silver lining on a rainy day. "I had surgery for a brain aneurysm that was found accidentally. It has affected my left eye and I stand a good chance of losing partial sight, but at least I still have the right eye," she says. "Life is always going to throw nasty health issues at me. One thing I've learned from SparkPeople members and content is this quote from
Charles R. Swindoll
: 'Life is 10 percent what happens to you and 90 percent how you react to it.'"
Diane's advice to other members is to take advantage of everything SparkPeople has to offer. "Read the
articles
, use the
SparkCoach planner on your Start page
, join some
SparkTeams
and
SparkChallenges
, blog on your SparkPage and check out the Community Goal Feed." She likes to help new members whenever she can, saying that helping those who are just starting the journey reminds her of where she started and how far she's come.
"I'm doing this!" she declares. "I'm maintaining my weight within a five-pound range. I'm happy, joyful and positive. Who knew life could be like this again?"
How do you deal with setbacks? Share in the comments below and congratulate Diane on her amazing journey to better health!
Got goals? While we're firm believers that you don't have to wait until a certain date to start embracing healthier habits, there's just something about a brand-new year that seems to inject all of those long-neglected good intentions with a much-needed dose of motivation. If you're feeling the urge to wipe the slate clean, turn over a new leaf or (
insert your favorite "fresh start" cliché here
), the first step is to have a clear idea of what success looks like for you.
If your
goal-setting
game is a little rusty, we've got you. Some of our SparkPeople members and staffers have shared what they hope to achieve in the coming year, to help inspire you to set the right targets and then get on track to meet them.
Read More ›