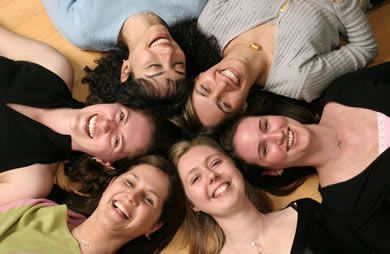 Friendships seem to be front and center throughout childhood and early adulthood, but once careers get into full swing and families start to grow, female friendships often take a back seat to other priorities. Nurturing good friendships is hugely important throughout your life. Friendships are said to increase your sense of belonging, boost your happiness and improve your self-worth. Experts say they're also great for reducing stress—and can be important for support when you cope with tough life situations such as illness or divorce.

We all know the classic girls night out (think dinner, drinks and dancing). But sometimes that night out at a loud bar doesn't make for the best conversation or bonding experience. Instead of burning the midnight oil, swap night for a full day of friendly fun. Friends can spur you to change or avoid unhealthy habits, experts say, and many of these ideas for a girls day out incorporate a health boost! Mix and match these ideas to plan a day of bonding and adventure with a girlfriend or your whole group of pals. What could be more fun than a day of fun, fashion, food, friendship, and fitness?


Fun


Host a moviethon. Whether it's a Gossip Girl marathon session or watching all of the Twilight movies, pick a group favorite, whip up some popcorn and enjoy relaxation and chatting. With just the cost of a few rentals and snacks, this fun-filled day is super affordable at less than $30!

Throw a theme party. Whether you love Wild, Wild West, Star Wars or Sex and the City, invite your friends over for a theme party. Get creative with dressing for the part and provide healthy foods that fit the theme. Depending on how elaborate you are with food, drinks, decorations, and costumes, you can throw a themed party for as little as $50.

Take a bartending class. Learn to whip up cocktails with your friends! With hands-on expertise from a real bartender ($25 and up per person), you can ask specifically about how to make low-cal drink options.

Plan a fit movie day. Watch classic movies that incorporate fitness for inspiration. Love dance? Girls Just Want to Have Fun, Footloose and Flashdance are all great options! Are you all team players? A League of Their Own and Bend It Like Beckham fit the bill.

Have a game day. Whether you play Charades, Monopoly, Trivial Pursuit or Cranium, games have a way of opening up the conversation and creating lasting memories. And it's free if you have the game on hand!

Continued ›
Article created on: 2/24/2012