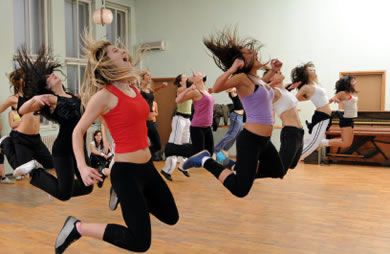 You've probably heard of the fitness craze Zumba, a workout known as a dance fitness party. I originally tried Zumba with a friend by following a fitness DVD.

While the DVD was fun and the hip-swiveling moves were a blast (and effective at working up a sweat!), the best part of the workout was dancing with my friend—and giggling at each other as we tried to get our hips to salsa, merengue and cha-cha-cha like the girls in the video.

Fast forward a few years, where I stumbled upon Zumba in a group workout class. A few times a week, my fellow gym-goers and I would pack the room and steam the place up! People of all shapes, sizes, backgrounds, and ages would gather together, crank up the music and dance their hearts out. Our instructor had an infectious energy and the ability to make you believe that you, too, could dance like her if you just came to Zumba often enough. It was a blast—and a calorie-burner, too. I wore my heart rate monitor during classes and would routinely burn 400 to 600 calories every hour, depending on how much I put into the moves.

The first class I tried left a huge impression on me: One hour in a room with people who were psyched about having a good time were dancing around to high-energy Latin music in a non-intimidating atmosphere. So simple, yet so amazing!

As much as I love Zumba now, I do wish that someone had told me what to expect and what to bring to class. It would have made going to those first few classes so much better. If you've been reluctant to try a class, read on for the ins and outs of getting your Zumba on!

What is Zumba?
Zumba Fitness is a Latin-inspired cardio-dance workout that uses music and choreographed steps to form a fitness party atmosphere. While many of the types of dance and music featured in the program are Latin American inspired, classes can also contain everything from jazz to African beats to country to hip-hop and pop.

Since its inception in the mid-'90s by creator Alberto "Beto" Perez, the Zumba program reaches 10 million people in more than 90,000 locations across more than 110 countries, according to its website. Over the years the cardio-centric Zumba classes have grown to also include specific programming for children (Zumbatomic) and seniors (Zumba Gold), along with classes in the water (Aqua Zumba), resistance training classes (Zumba Toning) and circuit classes (Zumba in the Circuit, at Curves fitness centers). There are also Zumba DVDs and interactive video games.

Continued ›
Article created on: 5/10/2011