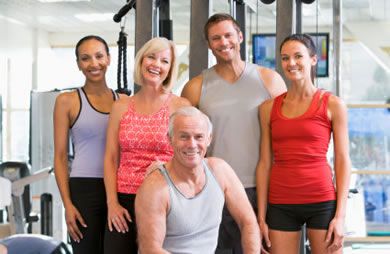 When it comes to losing weight and getting in shape, enlisting a buddy to support you won't just make the process easier—it will also makes it a lot more fun! Buddies are great for giving encouragement and advice along your healthy lifestyle journey. The more you surround yourself with people who support your goals, the greater your chance of success will be. Your buddy can be part of that support system—someone who gives you a boost when you need it, and whom you can lend a hand to in return.

So how do you go about finding the right buddy for you? Whether you're looking for someone with similar goals, a fitness buddy to work out with, or a person with a committed attitude, there are a number of ways to find a buddy right here on SparkPeople. Here's a rundown of easy ways to find your next fitness, motivation or weight-loss buddy at SparkPeople!


1. Use the SparkPage Buddy Finder. On the main SparkPages section of the site (under the Community tab) is our Buddy Finder. You can narrow your search based on location, age or goals and click "Search SparkPages" to find all the members who match your criteria. After you browse through the search results and find someone who looks like a good fit, contact the person by leaving a comment on his or her SparkPage or by sending a SparkMail or SparkGoodie. You can also add the person to your friends list (for easy access in the future) by clicking the "Add as a SparkFriend" button on the top of his or her SparkPage.

2. Make your SparkPage Searchable. If you want people to find you when using the SparkPages Buddy Finder (#1 above), you have to add yourself to the directory. To do so, go to Edit My SparkPage and locate the "SparkPage Search Options" at the top left of the page. Use the checkboxes to allow people to search for you based on your location, weight-loss goal, gender, age, and goals & interests. Only check off the options that you feel comfortable with sharing, and then click "Save Changes" to be included in the Buddy Finder directory. Then, if someone does a search for 21-30 year olds who want to lose 50 pounds, for example, your page will come up in their search results. This is a great way for others to find you.

Continued ›
Article created on: 7/21/2009