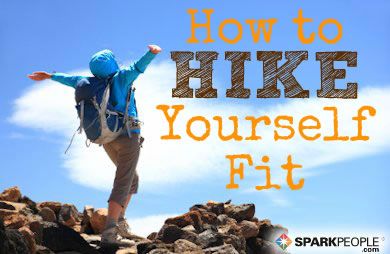 I was watching a rerun of "Sex and the City" the other night, in which Carrie is visiting a new boyfriend, David. They're enjoying a nice picnic on the grassy hillside, and David mentions that there are beautiful hiking trails all around the property. When Carrie, ever the city girl, confesses that she's never been much of a hiker, David says he recently discovered that "hiking…is just walking". On my couch in Ohio, I joined the collective groan of avid hikers everywhere (or the imagined collective groan, since avid hikers were probably out hiking instead of watching "Sex and the City" reruns). Sure, hiking involves walking, and both usually happen outside, but the similarities end there.

The term "hiking" implies an activity that occurs in the midst of nature, specifically on a trail, in a creek bed, on a mountain, or through the woods. Because of the terrain, hiking is almost always more physically challenging than walking, and burns more calories (around 350-400 per hour) as a result. Hiking can be a reward in itself, a means of transportation, or a purifying spiritual journey (more on that later). It can be fun, tiring, exhilarating, or challenging, and it's always good exercise. To ensure that your hiking experience is safe and enjoyable, here are some tips to prepare you for your trek.

These Boots are Made for Hiking
One of the most important items you'll need is a good pair of hiking boots that fit you well. Blisters and cramped toes can quickly turn a wonderful hike into a miserable event, so this item is worth a splurge. There are many styles of boots to choose from, from hiking sandals to steel-toed mountain boots. You'll probably want to start somewhere in the middle. For hiking on well-maintained trails and smooth terrain, "hiking shoes" will be your best choice. These resemble heavy-duty cross-trainers, are easy to break in, and are comfortable to wear. For slightly more rugged hiking, choose "cross hikers", which look like the quintessential hiking boot. They are built to withstand more abuse than hiking shoes, and are intended for rougher terrain, but you'll need to wear them around for a few days to break them in.

What you wear on the rest of your body is important too. Most experts recommend that you skip the cotton and don the high-tech synthetics, which have the ability to wick moisture away from your skin while still being breathable. In the cold months, layer for warmth, and in the warm months, wear light-colored fabrics to repel bugs.

Continued ›
Article created on: 4/12/2007