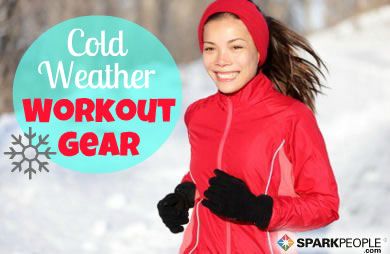 You've made the commitment. You're not going to hibernate this year just because it's winter. But you're cold when it's 75 degrees and sunny! Just the thought of going outdoors right now makes you shiver.

Take heart—you can keep warm while braving the elements. Innovative materials and tried-and-true methods will allow you to warm up during your cold-weather workout. Whether you're conquering the elements for your morning walk, or spending the weekend on skis, here are some tips to keep you toasty.

Learn to layer
Dressing effectively for cold weather means wearing layers, so you can add or remove clothing as activities and weather dictate. Generally, you want three layers: wicking, insulating, and weather protection.

Start with thermal underwear or other garments that are synthetic and have "wicking" power—the ability to move moisture from your skin and pass it through the fabric where it can evaporate. Look for these key words: breathable, Cool Max, and Dri-Fit. Remember, even though it's cold, if you're involved in even moderate activity, you will sweat. Also note that the wicking layer should fit snugly against your skin, but not tightly, to be effective.
Next, add a middle insulating layer—sweaters, fleece sweatshirts, pullovers, and vests to trap your body heat. Popular insulation materials include fleece, a synthetic fabric that dries quickly and maintains its insulating ability even when damp, and wool, which naturally wicks moisture away. This insulating layer should be loose enough to trap air between layers, but not so heavy that it restricts movement-- it should fit comfortably, offering you maximum range of motion.
Finally, finish off with a protective layer—generally a shell and pants-- that can block the wind and repel snow, sleet, and rain, while allowing perspiration to evaporate. Effective protection layers are both waterproof (treated with a coating or laminate) and breathable (made of tightly woven fabrics that allow perspiration to escape). There are garments with varying degrees of insulation available, depending on how cold your environment is. You also want to look for clothing tailored to your activity. The small details—hoods, cuffs, pockets, and zippers—are also important.
Continued ›
Article created on: 2/23/2005