Chef Meg's Top 10 Tools for a Stress-Free Kitchen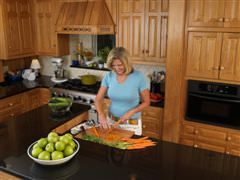 Awhile back I shared my six favorite kitchen tools. (Watch the video here.) Well, today I'm going to show you Round 2 of my favorites. Now, you can be a great cook--and a healthy one--without most of these tools and appliances, but boy do they make prepping food a breeze. Put these on your wish list--or treat yourself when you reach a goal! (That's my real-life kitchen in the photo above!)







1. Kitchen Aid Stand Mixer: My go-to for mixing cakes and kneading breads. This is the machine that can do it all and leave your hands free. I think they should change the name to the "Multi-tasker Master Mixer." Look for a model with the highest horsepower if you are planning on making a lot of yeast doughs. I have the professional model because I didn't ever want to worry about burning out the motor. Have you ever noticed the front plate on the machine? Well, it is magical. I have pasta rollers that fit in the slot and make pasta rolling and cutting a breeze. You can also pick up a grinding plate that will grind meats in a flash. (I use it to make low-sodium breakfast sausage.) Oh, by the way, check out all the cool colors!

Cost: About $350



2. Silpat: I bought mine when I was working in France 10 years ago, and I still have the same one. These days, you don't need to go to France to pick one up for your kitchen. This is a must-have tool for the healthy kitchen. When using this silicone baking mat, you don't have to grease your baking sheets, and it's environmentally friendly since you reuse it. (Just be careful to never put it under the broiler or in the dishwasher.) Wipe clean with a damp kitchen towel and let it air dry.

Cost: about $15



3. Kitchen Aid Food Processor: Perfect for cutting, shredding, or pureeing foods. My secret, I make all my icings in the food processor. It blends the fat and sugar and does not add any extra air like a regular mixer. This is one tool where you want buy quality. I like the kitchen aid brand because the blades stay sharp and it brings in lots of power.

Cost: about $150



4. Staub Enameled Cast Iron Dutch Oven: When it is cold outside this is the workhorse in my house. This post provides steady even heat. Perfect for stews, soups, and braised dishes. Can go from the stove top to oven to table. You can spend a small fortune on enameled Dutch ovens if you go for the top of the line brand name. I have found Staub to be the best value. Be careful not to take it from extreme hot to extreme cold, it will crack.

Cost: $30 to 300 depending on the size



5. Victornox knives: I am going to tell my age! When I attended the Cordon Bleu 27 years ago I was presented with a set of Victornox forged knives. I still use them all today- everyday. They hold their edge and are light to the touch. Hand wash.

Cost: $3.89-$30



6. IKEA PS Spraka Pepper Mill: This pepper mill sits right next to my stove for easy access. It has a ceramic grinding mechanism that takes whole peppercorns to a cracked cut in seconds. I love how it looks in my kitchen- usable and functional art work with its stacked circle design. This was my girlfriend gift last year.

Cost: $19.99



7. Glass Storage Containers: Steaming or reheating in the microwave using plastic makes me nervous. I invest in glass storage containers just for this purpose. The food tastes so much better!

Cost: ranges from $2 - $20



8. Best Whisk: Wonder how it got its name? A French chef that I worked with years ago introduced me to this lovely balloon whisk. He kept saying this is the "best whisk" and I would ask, "what is the brand name"? The company that makes the whisk thought the same thing so they named it the "Best Whisk." It has a nice wooden handle and tines that work to help incorporate air into mixes. Makes whipping egg whites a breeze.

Cost: $13



9. Baking Stone: If you want a crisp crust on pizza or golden baked chicken this is the tool for your kitchen. I love mine and use it almost every day. Heat it up along with the oven for preheat mode and food gets cooking the minute it hits the stone. Be careful to clean with a scrapper or stone scrubber only. Soap and water do not mix with this natural stone.

Cost: $25



10. "Y" Peelers: These little colorful peelers really do the job and can be picked up for a great price. I have several in my kitchen. I like the way they are designed to be open at the top. I like to peel like one would strum a guitar so this style of peeler suits me best. Caution- they need to be hand washed.

Cost: $4

Which of these do you own? Which do you want?



You will earn

5

SparkPoints

Like what you read? Learn more

about SparkPeople,

or

sign up

for your free account today!
Got a story idea? Give us a shout!