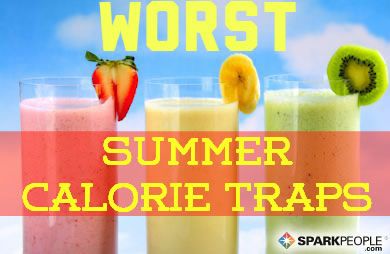 Summer is the season for back-yard barbeques, family get-togethers and lots of cool treats on hot days. But if you're not careful, a few sneaky snacks (or drinks) can derail a week's worth of healthy eating and fitness. Be on the watch for these surprisingly high-calorie tastes of summer.

Fresh Fruit Treats
Fruit is a sweet treat you can enjoy every day as part of a healthy eating plan. But don't let fruit-based seasonal dishes fool you into thinking that they're healthy or low calorie. There are tons of ways to turn fresh summer fruit into delicious desserts at home, but the fruit-topped treats you're likely to find when eating out probably aren't what you really had in mind for a healthy meal or snack.

| | | |
| --- | --- | --- |
| Food Item | Calories | Fat |
| T.G.I. Friday's Strawberry Fields Salad with Chicken and Balsamic Vinaigrette | 800 | 54 grams |
| IHOP Berry-Berry Brioche French Toast | 770 | 29 grams |
| Bob Evan's Strawberry, Banana and Yogurt Crepe | 750 | 14 grams |
| Applebee's Seasonal Berry and Spinach Salad with Chicken and Strawberry Vinaigrette | 620 | 31 grams |
| Au Bon Pain Strawberry Salad with Chicken and Balsamic Vinaigrette | 440 | 27 grams |
| Au Bon Pain Blueberry Yogurt & Wild Blueberry Parfait | 410 | 8 grams |
Carnival Foods

You're well aware that most of the food options you'll find at summer fairs and theme parks aren't going to do you any favors. You'll probably be able to find a few choices that will fit into your daily calorie goals like giant dill pickles, chicken and steak kabobs or even cotton candy. But there's nothing wrong with indulging in a once-a-year treat that you really enjoy. Just know what you're getting into and eat a healthy meal before you go so you can limit yourself to one treat (or bites of several shared treats). Here's how much these popular fair foods will set you back, so you can plan accordingly for your indulgence.


| | | |
| --- | --- | --- |
| Food Item | Calories | Fat |
| Giant Turkey Leg | 1,136 | 54 grams |
| Funnel Cake | 760 | 44 grams |
| Snow Cone | 550 | 0 grams |
| Walking Taco | 450-900 | 30-60 grams |
| Elephant Ears | 300-500 | 15-20 grams |
| Fried Snickers | 450 | 30 grams |

Entrée Salads
There's nothing better than a cool salad for dinner on a hot evening. Just toss some leftover grilled chicken on top for a little protein and brighten it up with cherry tomatoes and carrot slices. A simple dressing of olive oil, vinegar and Dijon mustard or a yogurt-based ranch will add tons of flavor for a small number of calories. It makes sense to choose a salad when dining out, right? Not so fast. Many restaurant salads seem healthy but tend to skimp on the healthy, low-cal veggies and fruit and add way too much of the high-calorie salad toppings like nuts, dressing, and cheese. Sometimes a salad is the perfect choice, especially at fast-food places, but at fast-casual restaurants, salads can be hidden calorie mines.


| | | |
| --- | --- | --- |
| Food Item | Calories | Fat |
| Applebee's Oriental Chicken Salad with Oriental Vinaigrette | 1,390 | 98 grams |
| Ruby Tuesday Carolina Chicken Salad with no dressing | 1,181 | 52 grams |
| T.G.I. Friday's Pecan Crusted Chicken Salad with Balsamic Vinaigrette | 1,080 | 71 grams |
| Panera Chopped Chicken Cobb with Herb Vinaigrette | 810 | 66 grams |
| Au Bon Pain Chicken Cobb with Light Lemon Shallot Vinaigrette | 490 | 30 grams |
| Wendy's Berry Almond Chicken Salad with Fat Free Raspberry Vinaigrette | 460 | 16 grams |
| McDonald's Premium Southwest Salad with Grilled Chicken with Low Fat Balsamic | 320 | 11 grams |
Continued ›
Article created on: 7/16/2013