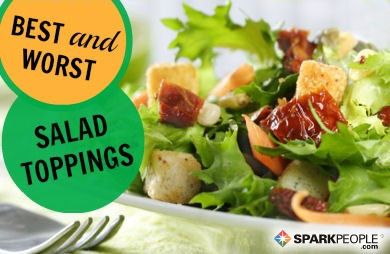 A few years back I typed up a list of New Year's resolutions on a small piece of cardstock, laminated it, and put it in my wallet. On that list was the resolution to eat a salad every day, simply because eating salad always made me feel like I was doing something good for myself. After all, salad provides several vitamins and can fill you up while reducing your caloric intake. What could be healthier than a big, fresh salad?

Unfortunately, many things, as I later found out. Salads can run the gamut of healthiness, depending on what is in them. Although that big bowl of greens may be packed full of antioxidants and fiber, it can also be laden with fat, cholesterol, and sodium—not to mention an overabundance of calories. Some restaurant salads can even contain more calories than a cheeseburger!

Luckily, like most things in life, a salad is the outcome of several small decisions. To make sure you don't sabotage your healthy diet unintentionally, choose wisely the next time you order a salad from a restaurant or visit the salad bar. When dining out, don't be afraid to ask questions, make special requests (extra veggies, dressing on the side, light cheese) and ask about substitutions (like grilled chicken for breaded). Most restaurants will be happy to accommodate you as long as their kitchen is stocked with the ingredients you want. Here's how to choose wisely next time you're making a salad at home or choosing one from a menu.

Lettuce
The foundation of most salads, lettuce adds substance, crunch, water, and fiber for very few calories—only about 10 per cup. But if you want all that and vitamins, too, toss out the iceberg and toss in the romaine, mixed baby greens and spinach. While iceberg lettuce is lower in nutrients (and still makes a decent choice if it's the only thing available), these other greens are rich in vitamins A, C and K, manganese, and folate.

Protein
Adding protein, such as lean meat, tofu, eggs or beans, will help bulk up your salad and keep you full longer. Unfortunately, many protein toppings are deep-fried, breaded and greasy, which adds unnecessary calories plus cholesterol, sodium and fat to your salad. Skimp on fattier toppings such as bacon and fried (breaded) chicken strips, and go for lean proteins instead. Grilled chicken, canned beans of all kinds, chickpeas, tofu, hardboiled eggs (especially whites), or water-packed tuna are leaner choices. Nuts and seeds are popular in salads, too, and while they're a healthy source of good fats and some protein, they're not exactly low-cal. If you choose to add them, watch your portions (1/2 ounce contains more than 80 calories).

Continued ›
Article created on: 9/29/2009