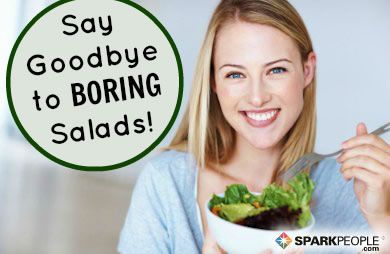 Consider the salad to be the ultimate expression of your creativity in the kitchen. The bowl of greens is your canvas; the ingredients are your paints and brushes. A good salad--one that's packed with wholesome foods and tastes great, too--is a study in contrasts: cool lettuce, crunchy vegetables, soft cheese, hearty proteins, tangy dressing. It's a party for all your senses!

But watch out: Salads run the gamut when it comes to healthfulness. Skimp on the good-for-you greens while you load up on bacon, ranch dressing and croutons, and you might as well eat a burger and fries. But fill your bowl with the right ingredients and you've got a meal that's as nutritious as it is delicious.

If you thought your salad days were behind you, think again. We're going to show you how to turn a humble bowl of greens into a satisfying meal that will fill you up without filling you out—one that will have you looking forward to your next salad!

Pick Your Base
Start with your biggest bowl (think of a large "pasta" bowl). Fill it up with a combination of leafy greens or just one variety. If bitter greens like radicchio and endive or spicy greens like arugula or watercress are too intense for you, try mixing them with crisp Romaine and iceberg, soft mesclun greens or Bibb lettuce. A serving of leafy greens is one cup, but use at least two cups for an entrée-size salad.

Dark leafy greens like kale, chard and spinach also make great salad bases. Try "baby" varieties of these greens for ease of preparation and a milder flavor.

Tip: If your greens aren't prewashed, only wash as much as you'll eat in one day to avoid spoilage. Pre-washed bagged greens are particularly convenient, especially when building a salad with more than one type of green.

Add Color
Once your bowl is full of greens, bulk up your salad with a variety of colorful fruits and vegetables. Use a ratio of 2 parts greens to 1 part veggies and fruit. Choose at least two kinds of vegetables, preferably in different colors for maximum nutrition. If you're just learning to like vegetables, dice them finely, or shred them. You can add contrast and texture to a salad by varying the cutting technique you use. Whether you chop, julienne, slice or dice them, remember to keep all your vegetables bite-size. Fruit, such as halved grapes, chopped pears, or fresh berries, adds nutrition and a sweet contrast to pungent or bitter vegetables.

Continued ›
Article created on: 12/18/2013