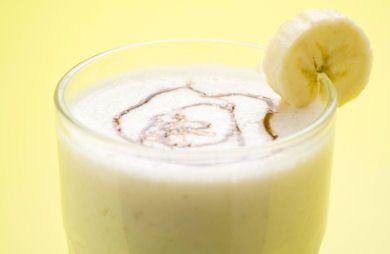 Dig out the blender! (Don't worry, nothing high-tech.) Throw in a few simple, nutritious ingredients, give it a whirl and you've got a super-quick breakfast, snack, or mini-meal. Who can resist these icy cold, frothy concoctions, fondly known as "smoothies"? Kids as well as adults love them! Follow these simple guidelines and blend up your own batch today.

For the Calorie Conscious
To help keep calories under control, avoid smoothies made with high-fat and high-calorie ingredients like ice cream, whole milk, and cream. Instead use low fat items such as skim milk, low fat yogurt, fat-free frozen vanilla yogurt, frozen ice milk, fruit juice, silken tofu, soymilk, soy yogurt, and rice milk. When a recipe calls for peanut butter, use it in moderation. (Although high in protein and the healthy monounsaturated fat, the calories can add up quickly, due to the total fat content.) And be careful with the portion size—one cup (8 ounces) is the standard, not the entire contents of the blender.

Fruitylicious!
The very best smoothie is creamy and thick, NOT watered-down or icy. A great trick for adding thickness to your smoothie—without adding additional calories—is to freeze the fruit before making the smoothie (or buy frozen fruit). Start in the fresh produce section of the grocery. Select berries, bananas, pineapple, kiwi, watermelon, cantaloupe, peaches, pears, plums, mango, anything. Grab the familiar as well as the unusual. When fresh stuff is unavailable or too pricey, check out the fruit choices in the freezer section. Canned fruit can also be used as a nutritious, tasty alternative, without the extra expense. Once you arrive home:
Immediately place frozen fruit in the freezer.
Open canned fruit and rinse off syrup.
Lightly rinse the fresh fruit.
Peel and remove the skin if necessary (banana, kiwi, melon, etc.).
Cut larger fruit into (ice-cube size) chunks.
Lightly spray a cookie sheet with a baking spray and arrange fruit in a single layer.
Place cookie sheet in freezer.
Once frozen, remove fruit from sheet, place in freezer bags, and return to freezer until ready to use.
Luscious Liquids
If your smoothie doesn't contain fruit, you may want to freeze the liquid ingredients to add thickness and creaminess, preventing a watery consistency. All liquids work well, including juice, milk, and coffee. Freeze the liquid in ice cube trays. Once frozen, you can store the cubes in freezer bags until ready to use.
Continued ›
Article created on: 9/16/2005