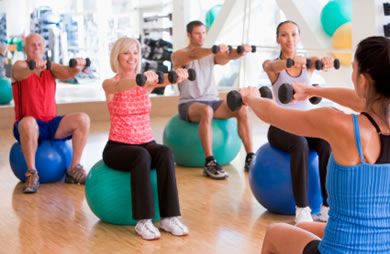 What would you call people who can help keep the weight off, boost your confidence, and help make fitness fun? You might call them "miracle workers."

We call them Goal Buddies.

Most people make the mistake of going it alone. Sometimes, it's just too tough to stay consistent by yourself. But a good fitness buddy won't let you quit.

Fitness Buddies are two or more people who commit to helping each other reach consistent goals with friendly encouragement and regular contact.

A study of young mothers suggests that support can make a huge difference in exercise consistency. Of women who were part of a weekly discussion group, 60% reached their workout target of 2.5 hours per week for 8 weeks – long enough to make exercise a habit. Or another statistic for you, married couples are seven times more likely to stick with an exercise program if they do it together instead of alone.

Why does a goal buddy help you get results? By offering accountability, motivation and consistency. By mixing these three ingredients, you can create a rewarding, effective relationship that's lively and a little lighter. Many of our members are finding this out as they match up with goal buddies through SparkPeople's Message Boards and SparkTeams.

Finding any old goal buddy isn't hard, but finding the right one may be a little tougher.

At the top of your priority list should be someone who has similar goals to yours. Just because you get along well with someone in your book club doesn't mean she'll help you get to the gym regularly.
Continued ›
Article created on: 11/4/2003