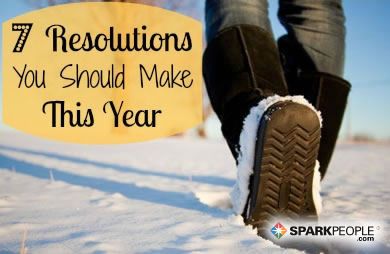 Every year, thousands of people set New Year's resolutions to stop doing things: Stop eating fried foods. Stop watching TV. Stop drinking so much beer. But, really, how long do they stick? When your resolutions aren't enjoyable and only focus on what you can't do (diet is a four-letter word, after all), they might not last very long at all.

But don't let that stop you from changing your life! Instead of making negative resolutions that probably won't stick, commit to making positive and uplifting changes that will improve your life immediately—changes that you'll want to make! Read on for seven resolutions that are guaranteed to inspire success and help you to be your best self!

1. Renew a Childhood Passion
Remember when you were a kid and couldn't wait to run and play during recess? Or maybe you loved art class and couldn't give your mom enough crayon drawings. Perhaps you adored music class, so you spent hours practicing the lyrics and notes. No matter what it was, all of us did something as a child that we just adored. Take this new year to renew that childhood passion and fall in love with it all over again. Don't limit yourself to elementary school activities—if you loved photography class or English composition in high school, start snapping photos or dust off your journal!

Where to begin: Buy a book on the subject or hobby you love and/or sign up for a class at a local community college or community center to reignite your childhood passion!

2. Get Organized
You know how you feel when your house is freshly cleaned. Everything is put away in its place, the dishes are done, the laundry is neatly folded—it feels great, right? Commit to making organization a priority in the new year, so you have that great organized feeling more often than not. Whether it's going through the basement, a closet or a junk drawer, having a home that is organized can make you feel lighter and less anxious.

Where to begin: Mark specific organization days on your calendar where you tackle a larger project such as a closet or room, or set a 15-minute timer a few times a week for smaller projects such as a cabinet or drawer. Be sure to give yourself a reward like a hot bath, a new house decoration, a fun magazine or some other "me time" activity once you have a new area organized.

Continued ›
Article created on: 12/22/2009