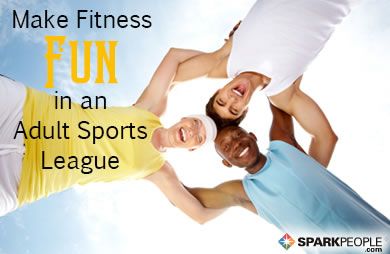 Sports fans around the world become glued to their TV sets during certain times of year. They cheer on their teams and live vicariously through amazing athletes who are playing their hearts out in games, tournaments and playoffs.

But do you ever think about taking to the court, hardwood, or diamond to participate in a team sport yourself instead of watching it on TV or going through the motions on your Wii Fit? If you ever played a team sport, you know how much you miss it once you stop playing. If you never played sports, it's not too late to join a team. Adult sports leagues can help former athletes relive their glory days and hopeful athletes get a taste of team spirit.

Here are four good reasons to join an adult sports league even if you don't consider yourself an athlete.

Reason #1: Break out of your mundane exercise routine.
Do you get tired of doing the same workout over and over again? Has the treadmill become the dreadmill? Break free! Sports like basketball, tennis, flag football and soccer offer an amazing cardio (aerobic) workout that can become a great addition or supplement to your current workouts. When you play a sport, you'll have so much fun that you won't think of your games or matches as exercise. And because you have a sport to play, you'll be inspired to get in better shape, which gives you more purpose and motivation to stick to a regular fitness routine. It's a win-win!

Reason #2: Learn (or hone) a new skill.
Is there a sport that you have always wanted to play but just never learned? Is your tennis serve getting rusty but practicing always ends up at the bottom of your to-do list? Whether it's golf, volleyball or bowling that interests you, joining a league will help you learn a new sport that you can enjoy for years to come. When you find an activity that you enjoy, your chances of sticking with it are higher, especially as you sharpen your skills and see yourself improving over time. Practice makes perfect!

Reason #3: Develop some new friendships.
Joining a recreational sports league is a great way to meet new people and spark new friendships. You'll find yourself in the company of others with whom you'll have at least one common interest—talk about an icebreaker! By playing with them once or twice a week, you are bound to develop some good relationships. If you're new in town or simply like to meet people, sports leagues are a fun and out-of-the-box way to expand your social network.

Continued ›