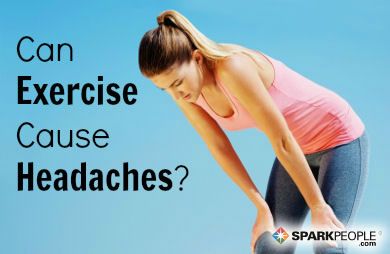 Whether headaches are a regular part of your life or something you only deal with occasionally, let's face it: they are a pain. Headaches can be brought on by a variety of things, including stress, illness and even weather changes. But what if your headaches are caused by something that's supposed to make you feel good and improve your health?

For some people, exercise can trigger headaches during a workout—or when it's over. If you've ever suffered from an exercise-induced headache, you may wonder whether you have to give up on fitness in order to avoid pain. Although there is no magic cure, there are things you can do to lessen the frequency and severity of headaches brought on by exercise.

Symptoms and Causes
For some people, headaches result during strenuous activities such as weight lifting, running, swimming or rowing. There are two different kinds of exercise headaches depending on their cause:

Primary headaches (also referred to as exertional headaches) are typically described as a throbbing or pulsating pain on both sides of the head that lasts from five minutes to 48 hours. Because exercise dilates the blood vessels (in order to bring much needed oxygen and nutrients to the working muscles), it is believed that this dilation of blood vessels in the brain itself during exercise can lead to pain in some people—even when their heart rate and blood pressure is similar to people who don't experience exertion headaches. About 10% of the population experiences this type of headache, which is more common in men than women.

Secondary headaches also involve throbbing pain, but can cause vomiting, double vision and even loss of consciousness. These headaches can last several days or longer and are caused by an underlying problem such as a sinus infection, abnormalities in the blood vessels leading to the brain or reduced blood flow in the arteries leading to the heart. These symptoms require immediate medical attention.
Exercising in hot weather or at high altitudes can increase the likelihood of experiencing an exercise headache—even in people who don't normally experience the problem.

Should I Talk to My Doctor?
No matter how often you experience exertion headache or how serious the symptoms are, it's best to discuss the problem with your doctor so they can rule out any other medical issues and develop a plan for dealing with them.
Consider starting a diary to document when the headaches occur. This can help you detect trends and also provide helpful information for your doctor when discussing your symptoms. Document your answers to the following questions:

Continued ›
Article created on: 2/28/2013