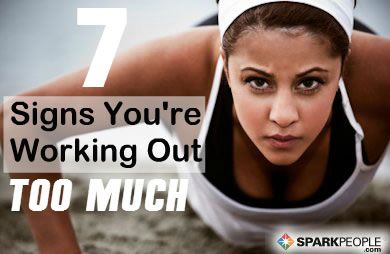 We've all heard that a combination of diet and regular exercise is the best way to lose weight and keep it off long term.
For some of us, common sense dictates that the more you work out—and the higher the intensity—the better. But that's not necessarily true. Even if you've gradually increased the intensity, duration and/or frequency of your workouts, you can still run into problems.
Have you noticed that your workouts suddenly feel harder than before, even though you haven't changed anything? Do you feel like you are losing ground, even though you're working hard? If so, you may be overdoing it.
The cause of overtraining is simple. You're not resting enough to allow your body time to recover, or you're doing the same exercises too much. Here are some common symptoms of overtraining:
Feeling tired, drained, and lacking energy
General body aches or mild muscle soreness
A decrease in performance
Inability to complete workouts
Headaches
Insomnia
Lack of motivation
Continued ›