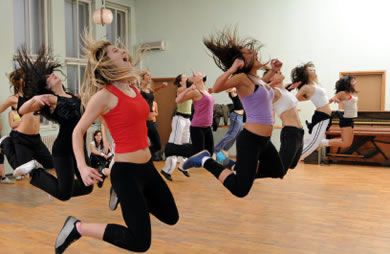 When people begin a fitness program, they understandably have lots of questions, from how to perform certain moves to which exercises are most effective. One question that everyone seems to ask is how to breathe properly when working out.

I know what you are thinking. "Who would need instructions on how to breathe?" Breathing doesn't take thought; it is involuntary, just like blinking your eyes. Shouldn't we stop thinking about it so and just let it happen? Yes and no. Trainers or exercise instructors regularly need to remind their clients to breathe because so many people tend to hold their breath when they work out.

But holding your breath isn't the only problem people face during exercise; their breath is often too fast, too slow, too deep or too shallow. Sometimes they even inhale and exhale at the wrong times, and while that will not make or break your workout, it can affect the exercise itself, how well you perform it, and your mind-body connection.

Breathing Basics
In our daily lives, breathing comes naturally and doesn't require any thought. We need oxygen, so we inhale, and we need to rid our bodies of carbon dioxide, so we exhale. However, few people use their lungs to their full capacity. It has been reported that at rest, people use just 10%-15% of their actual lung capacity, usually a result of quick, shallow breaths that make the chest rise and fall.

When you exercise, however, your working muscles demand greater amounts of oxygen and you create more carbon dioxide waste as a result. This results in an automatic increase in your respiration rate. But exercisers—especially new ones—shouldn't take this process for granted. Becoming more aware of your breath can help you feel more comfortable (breathing too slowly can increase your heart rate and affect your perceived intensity), prevent complications (like dizziness or faintness that can result from a lack of oxygen), and get more out of your workouts. Here's what you need to know to breathe properly during five common types of exercise.

Cardio (Aerobic) Exercise
When you are walking, running, biking, Spinning, or doing any other form of cardiovascular exercise, try to breathe deeply. "As to whether you breathe through your nose, mouth, or a combination of the two, is a personal preference," says SparkPeople's Nancy Howard, a certified running coach. "Most runners find that mouth breathing provides the body with the greatest amount of oxygen," she explains, and this may be the case for other exercisers, too. Make a conscious effort to keep your breathing both deep and relaxed. Ideally, we should all practice diaphragmatic breathing or "belly" breathing during cardio activities, which contrasts considerably with the shallow chest breaths we do while at rest. Diaphragmatic breathing allows for deeper, fuller breaths and better oxygen delivery during intense exercise. Here's how to do it:
Relax your abdominals slightly. Pulling them in too tightly or sucking in your stomach will limit how fully your can breathe.
Breathe deeply enough that your belly—not your chest—rises and falls as you inhale and exhale.
Continue this technique at your own pace to meet your oxygen needs during exercise.
If this does not come naturally, you can practice belly breathing by lying flat on your back with a book on your abdomen. Slowly inhale as you watch the book rise, then lower the book by slowly exhaling. This takes focus, but over time you will find it easier to do this type of breathing during your workouts. If your breathing is short and shallow, you might be working too hard or you may have not developed a good breathing pattern for your activity. But keep in mind that your breath will not always line up perfectly with your movements when doing cardio, and you shouldn't try to force it to. For example, a swimmer may take a breath on one arm stroke and exhale after three arm strokes, but there is no rule that you have to breathe in for three steps while walking and then out for three steps. The key is to find a breathing pattern that is comfortable for you and stick with it.

Continued ›
Article created on: 11/24/2009