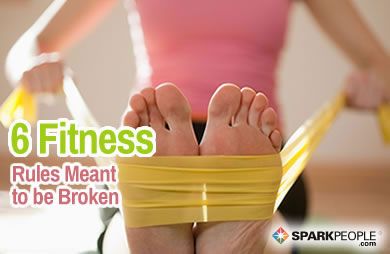 We've already debunked some outdated diet rules, but what about fitness? Just as there is plenty of questionable diet and weight-loss advice going around, some exercise "rules" that people live by are downright misleading, misguided or just plain out wrong. Why does it matter? Because you want to make the most of your time in the gym—and stay safe while you do it.

Read on as we debunk six old fitness myths and replace them with new workout rules that will support your body to be its fittest and healthiest!

Old rule: Tone up a specific area of your body by exercising it more.
You know the infomercials and workout DVDs that promise to get rid of those flabby underarms, tighten your hips or turn your stomach into an instant six-pack? Well, they fib. There is absolutely no way for you to selectively reduce fat on a specific area of the body. While you can build muscle in a particular area, you cannot get rid of the fat that way.

New rule: Burn fat for six-pack abs and jiggle-free arms.
Truth be told, you do have a six-pack under that stomach—you just can't see it yet if you have some pounds to lose! So instead of wasting your energy by spot training (think thousands of crunches), focus on using your entire body to burn calories through a mix of weight-training and cardio (and see new rule #3 for a powerful fat-blasting combo!). Also, be sure to eat a healthy, lower calorie diet. It's only through exercise and a proper diet that those strong muscles can be shown off!
Old rule: Do crunches for a strong midsection.
Crunches are by far the most popular exercise for working the abs, but why? Turns out, crunches only target the top part of your abdominals and actually don't improve your core strength that much. And, really, what good is fitness if it can't help you easily do what you need to do in everyday life?

New rule: Get a strong core with functional full-body exercises.
Did you know that abs only make up one part of your core? Yep, the full core is made up your abdominals, obliques, transverse abdominis and erector spinae (low back). Some experts even consider your hips to be part of your core. So when it comes to getting a strong midsection, don't just crunch. Do a variety of planks, side planks, twists, rotations, balance work and more to build functional strength and support your body—no matter what activity you're doing. A strong core keeps your back healthy and resistant to pain and injury, improves posture, allows you to move your body with greater control and helps with balance.
Continued ›