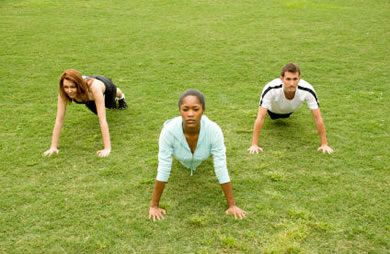 Make your fitness dreams come true once and for all, starting with the classic pushup!

Pushups tend to be much easier for men, since they have greater muscle mass and strength than women. But you don't have to be G.I. Jane to master the "boy" pushup. Before you can perform real pushups, you have to build enough strength in your upper body to handle your body weight, and a strong core (a variety of crunches and plank exercises will help) to stabilize your body in the pushup position. The following exercise progressions will help strengthen the major muscles involved in pull ups until you're strong enough to do them on your own.



Time Involved: Two 10-minute sessions a week, for several weeks
Muscles Worked: Chest, Shoulders and Triceps


How to Train at the Gym
A variety of gym machines and equipment can help you build strength for your pushups.
Phase 1: Start by strengthening your "pushup muscles" by using the chest press machine, or by doing chest presses with dumbbells or a bar. Start with any weight you can handle until you can perform 2-3 sets of 12-15 repetitions in good form. Then move to Phase 2.
Phase 2: Continue to gradually increase the amount of weight you press over time, until you can lift about 80% of your body weight for 1-2 sets of 10-12 repetitions in good form. Once you can lift this, you can do real pushups—guaranteed!
Phase 3: Pushups! Once you've mastered Phase 2, you should be able to perform about 4-6 pushups or more. Congratulations!
Phase 4: To perform more pushups, or perform them with ease, work on your pushups regularly. If they still feel difficult, focus on the negative (lowering) phase of the pushup, lowering slowly for about 5 counts. This will help you build more strength so you can perform more pushups in good form.
Continued ›
Article created on: 1/15/2008