All Entries For
upbeat songs
If you read many of my blogs here, or follow me on Facebook or Twitter, then you know how much I love finding and sharing
great workout music
. Why? We all know it and research even proves it: listening to fast paced and upbeat music makes working out more fun. It pushes you to work harder while making you
feel
like your workout isn't so hard. And in some cases, it can motivate and energize you to get out the door when you're thinking of skipping a workout. One of the best motivators for me is to constantly add new songs to my workout playlists so that my workouts always seem fresh and interesting.
Recently, we surveyed our members to find out what kind of music they like best, and we used those results to develop the first-ever SparkPeople workout mixes, created in partnership with
Yes! Fitness Music
. I worked directly with the music experts as Yes! to develop five distinct music mixes to help motivate you through your workouts.
Read More ›
New music can be a fun and inexpensive way to boost your motivation to work out. If you need some new tunes, look no further. I recently polled my followers on Twitter and Facebook for the best new workout songs they added to their own playlists. There is a huge variety in genres here, from pop to hard rock to hip hop to country—something for everyone! Here are their suggestions.
Read More ›
I am always on the lookout for new workout songs. I keep a paper and pen in my purse at all times so I can jot them down when I hear them. Since I continuously add to my playlist to keep my workouts fresh and fun, I figured I'd help you out too. Here are a few songs that I just can't get enough of right now. Hopefully some of these resonate with you, too, and help you get your body moving!
Read More ›
It's the third full week in January. Is your motivation to exercise still going strong? If you feel yourself starting to slip, maybe it's time to refresh your workouts—or your approach to them. One of my favorite things to do when I'm feeling blah about being active is to update my iPod with some fresh new songs. It makes "just another run" seem new and interesting, and when I find the right songs, I couldn't even sit still while listening to them if I tried!
So here are 10 workout songs that I am completely obsessed with lately. When I hear these, it's get-up-and-go-time! Hopefully you'll find a few new favorites from this list, too.
Read More ›
Even though I've been
enjoying some music-free workouts
lately, I still love an upbeat music playlist—especially if I'm stuck indoors or going out for an extra long run on the weekends. I'm always updating my iPod with new tunes to keep things fresh and prevent boredom, and you've told me that you do the same. Since music is an important part of a solid fitness routine, I thought it was time to share some of the new songs I've been exercising to. Then I want you to tell me what's playing in your earbuds during your latest workouts!
Here are eight of my favorite workout songs of the moment. There's a little bit of everything here, from pop to hip hop to alternative rock.
Read More ›
One of the easiest ways to refresh your workouts is to update the music you listen to while you exercise, whether you use an iPod or still create your own mix CDs. It has been too long since I shared some of my favorite workout songs with you, so I figured the new year was a good time since so many people are fired up and ready to get fit.
There are a few songs that I'm obsessed with lately. And I mean that--I cannot get enough of them! These tunes are so fun and upbeat that I can listen to them on repeat and still get my body moving after weeks on my workout playlist. Some of these hits are new and some are older (circa 1999 for one), but release date doesn't matter to me as much as the fun factor. If it makes me want to move, it goes on my playlist.
Read More ›
Every year or two, I get antsy with my fitness routine. My usual cardio becomes boring. Standard strength training doesn't hold my interest anymore. I get bored with my workouts and so I pick up a new pursuit, like Pilates, kettlebells or outdoor cycling. My latest thing is running. I used to be a competitive runner in high school and stuck with endurance running (6-8 miles several times per week) after graduating. But that got stale after a while and I didn't like exercising by myself all the time. So I took up
Spinning
, which has been my go-to cardio for almost 10 years now. I still love it, but as I was looking for something new to keep my interest and challenge my body in new ways, I returned to running.
At first, it was just once a week that I'd head outside for a 30-minute run. It wasn't easy, but I liked that about it. After a few weeks, I added another day of running to my week. Now I'm up to three times per week, still around 30 to 35 minutes each time.
Last week, I was ready for the next step: ramping up my running time to 40 minutes straight. I was tired that morning and not feeling entirely motivated to go 5 minutes longer, which also meant waking up earlier (and you may remember that
I'm not a morning person
). But then something happened that gave me a newfound energy to keep going...
Read More ›
As a fitness instructor, I spend a lot of time listening to music, searching for new (and old) songs I can add to my Spinning classes or listen to while I run. I can't emphasize enough how important music is to my workouts—it really motivates me to get started, and to keep going when I'm feeling tired. So I'm going to share with you some of the newest tunes on my workout playlist. Then I want you to tell me what you're listening to!
Read More ›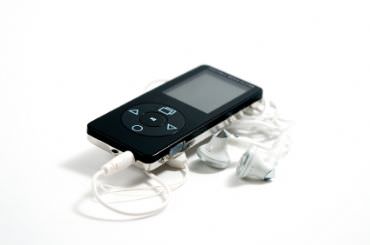 If you're like me, then you need a good soundtrack if you're going to work out. So I'm going to share with you some of the newest tunes on my workout playlist. Then I want to hear from YOU!
Here are five of my new favorite workout songs. Click on each link to listen to a preview (or purchase the mp3) at amazon.com.
Read More ›
The January 2009 issue of
Fitness
magazine recently named their top 100 workout tunes of 2008. I was so excited to see this list, because I'm always looking for new songs to add to my iPod and use in my classes. Find out if your favorites made the list!
Fitness
breaks the 100 songs into five categories, which each include 20 of the best songs for Spinning, running, walking, weight training and even yoga. I have to admit that I hadn't heard most of the songs on this list, but here are the ones that I do like from their list:
Read More ›
If you're like me, then you need a good soundtrack if you're going to work out. So I'm going to share with you some of the newest tunes on my workout playlist. Then I want to hear from YOU!
Read More ›
Music goes a long way with motivating me to work out. I can't imagine running, teaching
Spinning class
or even lifting weights without some good tunes to keep my mood and energy levels high.
When I teach classes, music takes center stage. I take a lot of time to create a good playlist and craft a class that follows the speed, beat and mood of the music itself. And now, I'm going to share one of my new playlists with you, along with the great cardio workout that goes with it.
Read More ›