All Entries For
SparkPeople Store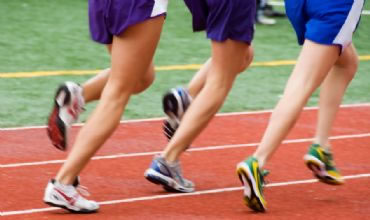 Spring is just around the corner, and that means racing season is almost here! What better way to spread the Spark than to show off some SparkPeople gear when you run in your next 5K? Check out these fun offerings from the SparkPeople Store to wear all season long!
Read More ›
If you're anything like us here at SparkPeople, you may find that you get ridiculously motivated by
new workout clothes
. We've said it before, and we'll say it again: switching up your workout wardrobe every once in awhile might give you that kick in the (stretchy) pants you need to rev up your exercise routine. Luckily for you, we're having a motivational sale all month long at the
SparkPeople Store
-- 40% off on
SparkPeople performance shirts
!
Read More ›
CONTEST CLOSED: Congratulations JBEDFORD0, and TTELRACS!

How is 2012 going for you? Are you feeling inspired? Motivated? Strong? Healthy? Happy? Are you still committed to the goals you set for yourself for the new year? If so, congratulations! You're two weeks in and doing great. If you're struggling, don't worry. SparkPeople is here to help.

Whether you need a dose of motivation or a reward for reaching a goal, today's giveaway will suit your needs.

We're giving two lucky readers a $50 gift certificate to the SparkPeople Store. If you're new to the site, you might not know much about the store. Learn more:


Read More ›
SparkPeople.com is a 100% free site, but a couple years ago, we created an online store to help satisfy member demand for SparkPeople goods. You asked us for
T-shirts
,
workout DVDs
and more, so we delivered not only those items, but additional things as well (think
key chains
, apparel, and
fitness equipment
)!
Purchasing something from
the SparkPeople Store
not only helps us earn additional revenue to keep our website free for all, but it is also a great way to Spread the Spark. If you've ever worn a SparkPeople T-shirt in public, or proudly displayed our
window decal
on your vehicle, then you've probably also fielded questions from friends and strangers alike that led into you telling them about the site. And if that's the case: Thank you! Word of mouth is by far our biggest source of new members.
For those who haven't visited the SparkPeople store lately, we have four new products that make for inexpensive and fun ways to reward yourself for reaching your goals—including a couple items inspired by our members!
Read More ›
I'm biased.
I love everything in the SparkPeople Store. But there's one product that I'm absolutely head-over-heels in love with:
the long-sleeved bamboo shirts
.
We say: "Work out in comfort in our SparkPeople Ladies Long Sleeved Bamboo Performance Shirt. Bamboo is super soft for that worn-in feeling and naturally wicks moisture. The fabric also is naturally antibacterial, repellent to harmful ultraviolet rays, hypoallergenic and breathable without chemical additives. The StretchFlex technology provides comfort and freedom of movement, lasting recovery and great fit. 57% bamboo lyocell/38% cotton/5% spandex ladies long sleeve jersey t-shirt."
I shared these shirts with a few of my favorite bloggers,
Anne
(that's her in the photo above),
Meghann
,
Gina
, and
Emily
, who've been huge supporters of SparkPeople.
Within a day of receiving them, they were all wearing them, and I keep getting tweets, texts, and emails: "This shirt is so soft!" "I love it!" "I don't want to take it off!"
Me neither! (Did I mention they're on sale for $23.99?)
I have one in "currant" (magenta), and I wear it at least once a week (as evidenced
here
). Thin enough to layer under another shirt, and thick enough to keep a chill off your skin, I like this shirt so much that I refuse to wear it as a workout shirt. It's my go-to travel shirt, and I wear it to the office, too. (Tip: Spread the Spark by wearing a SparkPeople shirt when you travel. People always ask me about SparkPeople when I wear it. I also have
SparkPeople key chains
on my luggage and laptop bag.)
So why am I sharing this with you today? Well, because starting today and running through Saturday, Dec. 4, the SparkPeople Store is offering
free shipping on orders of $50 or more!
(Guess who's going shopping as soon as she clicks "publish"!)
Read More ›
This May, the
SparkPeople Store
is offering free shipping on all orders of $50 or more! Be sure to take advantage of this limited time offer by stocking up on spring essentials like water bottles, fitness towels, SparkPeople
T-shirts and tank tops
and more. Of course,
one of my DVDs
would be a great addition to your home gym, too!
In addition to this free shipping offer for May, we've also grouped some of our most popular fitness items into a great money-saving "Fitness Bundle" package for only $50. So what's in the bundle?
Read More ›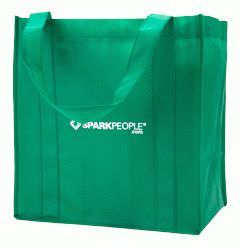 In case you missed our earlier promotions, I wanted to let you know one more time about the April special going on at
SparkPeopleStore.com
. For a limited time only, you'll receive a FREE eco-friendly grocery tote (that's it pictured to the left) on all SparkPeople Store orders of $29.99* or more!
*Simply enter the promotional code GOGREEN during checkout. This offer is applicable on orders placed April 1-30, 2010 that total $29.99 or more and ship via ground shipping.
You could spend that $29.99 on fitness products (like our
Fitness Starter Kit
for $29.99),
SparkPeople T-shirts
($11.50 and up), or
smart portion lunch kits
. But to go with the whole "green" theme, I have another idea.
Read More ›
As a small company, everyone at SparkPeople wears several hats.
Kelly
, our office manager answers the phone, mails prizes, monitors message boards, and keeps our office life running smoothly (which involves about 1,000 other tasks).
Paul
is a programmer who also helps me shoot workout videos and provides comic relief (an important job). Rachel oversees our sister site BabyFit.com, but also does accounting and HR work. And while I spend most of my time working as editor of SparkPeople.com, I also blog here, create fitness videos, and help brainstorm and test products that we sell in
our online store
. We are a busy bunch!
Working with the SparkPeople Store is a lot of fun, whether my involvement is as simple as
testing the Bamboo tanks
for a few workouts or more time-consuming, like writing the daily content for our
day-at-a-glance calendar
.
But there is one product from our store that I am particularly fond of, and not just because it is my brainchild. It acts as a motivational tool and a reward system all in one. It keeps me accountable, but it's also fun and easy to use. And now that I have it, I can't believe I went so long without it—especially because I have used it every single day since January 1 of this year.
Read More ›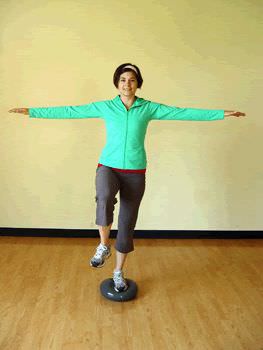 I'm a big believer that you don't have to belong to a gym or buy a bunch of fancy equipment to get a great workout or lose weight. But some small fitness gadgets and tools can be fun! These affordable pieces of equipment can help you freshen up your fitness routine (to stay motivated and prevent boredom) and take your workouts to new levels.
Some of the most versatile and effective pieces of home fitness equipment—resistance bands, stability balls and pedometers, to name a few—are also the least expensive. My new favorite toy is no exception.
Read More ›
Sometimes, even when you lose, you win. And sometimes, the more you buy, the more you save. That's also the case with two specially priced "bundles" available right now in the SparkPeople store. Whether you want a great deal on home fitness equipment to start a workout routine without going broke OR you want more SparkPeople gear so you can Show Your Spark in style, we have two great options that you (and your wallet) will love!
We think these products are SO great that we're giving away one of each of these bundles in the dailySpark Anniversary Giveaway!
Read More ›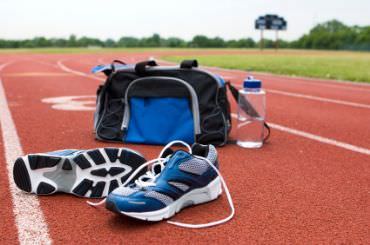 Even if you're
not planning to take a full-fledged vacation this year
, travel is a necessity for most of us, whether for work, weddings, or weekend trips to visit family and friends. And since you're pursuing a healthy lifestyle, you know that fitness should be a permanent part of your life whether you're at home or on the road.
Obviously, you can't take your gym with you. Dumbbells, mats, and balls don't always pack well, either. Luckily, there are a few portable pieces of equipment that you CAN pack to ensure you'll
get a good workout away from home
. Here are three that cost less than $11 each—you may even have them at home already!
Read More ›
Recently, I told everyone how
new workout clothes motivate me to exercise
, and most of you told me that you feel the exact same way! I've been sporting the same tank tops and workout pants (if you've been following my workout videos, you've probably noticed that, too). While I love them, they're becoming worn out from hundreds of workouts (and washes) and I'm ready for something new. I've been browsing online and in stores, but I hardly ever find something that's
just right
when it comes to
material
(soft, but sweat-wicking),
fit
(I like longer tops that don't bare too much skin), and—let's not forget about this—
price
. Workout clothes can get expensive, and most of us don't have a lot of extra money to spend on exercise gear. I won't spend that kind of money unless it's something truly perfect.
Lucky for me (and you),
the SparkPeople store
just added 5 new types of high-performance fitness apparel that each meet my criteria above. (I get to test all of them out before we decide to sell them to you; it's a tough job but somebody has to do it). But that's not all—we're also running a special
FREE SHIPPING
offer (read on for details) for the month of May!
Read More ›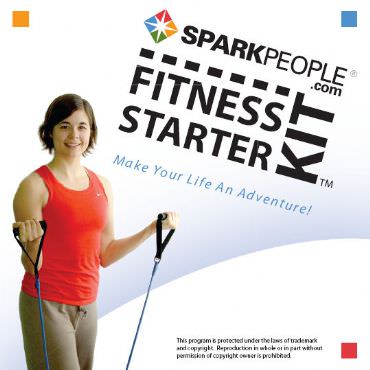 When I told you about the SparkPeople's awesome
Fitness Starter Kit
, your comments were overwhelmingly positive. But we noticed a trend: Many of
you had all or most of the Kit's equipment already
and wanted to purchase just the DVD, not the whole Kit. Loyal readers, we heard you loud and clear. I'm happy to report that you can now purchase my Fitness Starter Kit DVD in the
SparkPeople Store
!
Read More ›
The right gear goes a long way in not only motivating you to work out and reach your fitness goals. You don't want to waste your money (especially in these hard times), and you want to know that what you buy will really work. So when SparkPeople asked me to help create a
Fitness Starter Kit
for people to use at home, I was all over it! We had three main criteria: It had to be effective, durable and affordable. And trust me on this—it's all that and more! If you're re-thinking that pricey gym membership or want to get fit without going broke, the Fitness Starter Kit can help you reach your goals.
Read More ›