Spending Big Dollars to Market Cocoa Puffs to Kids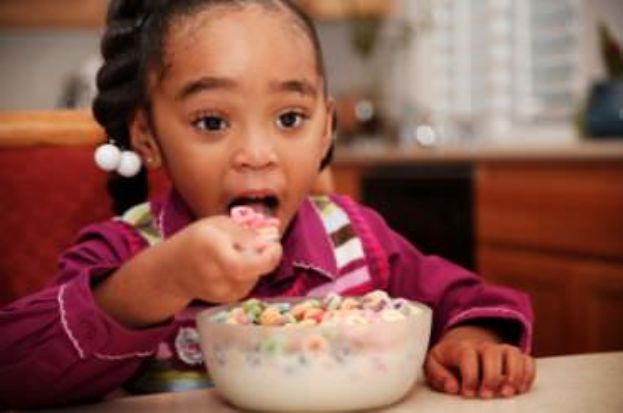 Growing up, the two cereal choices in our house were Cheerios and Rice Krispies. The only time I got to try the cereals I saw advertised on Saturday morning cartoons was when I spent the night at a friend's house. I always dreamed about what Cookie Crisp and Cocoa Puffs might taste like, and to this day, I've still never tried them (although I don't think I'm missing much anymore).

My parents had a rule in our house: No sugar cereals. I guess my sister and I were already full of energy as the day began, and they didn't want the extra sugar to get us even more wired. That was a wise decision. You'd think that these days, the cereal commercials directed toward children would have a healthier spin. But a new study shows that's not the case.

The study, conducted by Yale University's Rudd Center for Food Policy and Obesity, found that cereals marketed to kids have 85% more sugar, 65% less fiber and 60% more sodium than those targeting adults.

The average preschooler sees 642 TV ads for cereal each year, and cereal companies spend over $150 million a year marketing their products to children. There are healthy cereals out there, but the marketing dollars are spent on the unhealthy products instead. Why? Maybe it's easier to make an exciting commercial about eating a bowl of cookies for breakfast than to make one about a bowl of toasted o's.

In a related study, Yale researchers looked at the breakfasts of children (ages 5-12) at a summer camp. Half of the kids were given a sweetened cereal, and the other half was given a low-sugar option. The children who ate the low-sugar option averaged one serving or one cup of cereal. The children who ate the sweetened option averaged two servings or two cups of cereal. They rated the taste of both options equally high. So children in this study were just as satisfied with the "healthier" cereal- and ate half as much.

A healthy breakfast is so important, especially for kids. They are growing, establishing healthy habits that will hopefully carry through into adulthood, and need to be able focus during the school day. So why do cereal companies continue to promote products that don't help these efforts?

What do you think?



You will earn

5

SparkPoints

Like what you read? Learn more

about SparkPeople,

or

sign up

for your free account today!
Got a story idea? Give us a shout!