SparkPeople Live! Brings the Support Meeting to You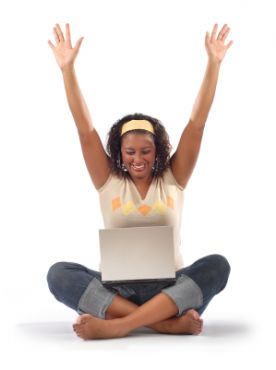 At SparkPeople, we are constantly innovating because we are all passionate about helping others reach their goals and lead healthier lives. From improving our mobile apps, to enhancing existing website features, to writing our own books, we are always busy. Many of these features and product ideas come directly from member suggestions! Others are ideas we think of ourselves because we notice a need for them.

One new feature we are all very excited about is called SparkPeople Live! Our members have long requested the ability to regularly meet up with other members and get personal contact in addition to our online support. Others continue to pay for other diet or "weight watching" meetings in conjunction with using SparkPeople's free tools because they say that they need that in-person accountability to help them stay on track.

Now you don't need to go anywhere to get the real-time contact, accountability and support you're looking for.

SparkPeople Live! brings it right to your home at a time that's convenient for you. Our hour-long meetings are led by experienced and successful SparkPeople members (BOBBYD31, CASSIOEPIA, KRYSTIES4, MIAMIA7, SHAWNEDA and SPARKGIRL32) who have been hand-picked and trained by our staff to teach a weekly lesson (on topics like emotional eating, portion control, fitting in fitness and more) and encourage lively discussion among all participants—in real time. From the comfort of your home, you watch the live lesson on your computer, and have the choice to interact in the meeting via webcam, audio, and/or typing commentary—whatever participation level is most comfortable for you.



Real screenshot of a SparkPeople Live! meeting

These online meetings offer all the positivity, support and motivation you'd expect from SparkPeople. You never need to feel embarrassed and no one will make you feel ashamed. No longer do you have to go to public weigh-ins and share your weight with strangers. Instead, you'll get nothing but positivity, support and encouragement you need to stick with your program—support that has been proven to help people get better results. And every month, our own experts will lead a special meeting, giving you the chance to learn and directly interact with SparkGuy, Coach Nicole, Chef Meg, Dietitian Becky—and more!

Here's what SparkPeople Live! participants are saying:


"This class was GREAT! It was just plain encouraging. I did not have access to a web cam, but it was nice to see our meeting leaders speaking. It was very exciting, and I feel quite confident I will be breaking my plateau with the extra boost!" – SLIMCARROL

"Having an online support group allows you to connect with others on a more personal level and pushes the envelope on accountability." –IRISH_EYES_66

"I was in the Tuesday afternoon meeting with Anne and Bobby. I loved it! I blogged about it! Very back and forth in the conversation. They both included those that did not have microphones and were just typing. That was wonderful, since I wondered if I would feel left out. I didn't. I already have a microphone headset for next time! WooHoo!" – 2BEEFIT

"I attended this morning's session with Krystie and it was awesome. There was a lot of group participation and Krystie did an excellent job of leading the session. Topic was perfect for me: emotional eating. I'd highly recommend people signing up for these sessions. The group support is so beneficial. Thanks, SparkPeople, for offering this service. We don't have to drive anywhere and become more frustrated (an emotion), which in itself reduces the stress factor and excuse to eat something we shouldn't have." –DOODLESOUP

"I love SparkPeople Live! It's very informative and by the end of the meeting, it has you feeling great. You get take home information on everything that was discussed so you don't have to take notes, and each week they give you a new challenge to accomplish and they are not over-the-top challenges—very down to earth and achievable." – AJHALL11281

"In case you missed the announcement, SparkPeople now has e-meetings. It's like a WW meeting except it's online. You can chat via text or use a mic or webcam to interact. Each meeting is lead by a Spark Leader and has a different theme…Overall I've really enjoyed the meetings. I was a member of the beta group, so I've been attending meetings for a couple of months now. Last week's topic was about substitutions and even I, a long time WW, learned something new. Give it a try, especially if you've been missing the interaction from going to meetings. Have a great weekend!" – GIRLYFIED


*Bold emphasis added to quotes above


While all of SparkPeople's online features are free, the technology needed to run live online meetings is expensive, so we are charging a nominal monthly fee of $12.99 to help offset these costs—that's just $3.25 a week (and a much better way to reward and treat yourself than buying a latte for the same cost). We also offer a super rate on a 3-month subscription: $25.98, which works out to just over $2 per week. There is no registration fee, your first week is always free, and you can cancel at anytime. Plus that price gets you unlimited access to meetings, along with a lot of other fun freebies (extra SparkPoints, a 20% off coupon for The SparkPeople Store and more), including access to special monthly meetings led by our experts and coaches. Learn more or to sign up for your free trial of SparkPeople Live!

We hope you will choose to take advantage of the support, motivation and encouragement that SparkPeople Live! offers. As always, we will keep working to provide you with the best support possible as you work toward your goals.





You will earn

5

SparkPoints

Like what you read? Learn more

about SparkPeople,

or

sign up

for your free account today!
Got a story idea? Give us a shout!