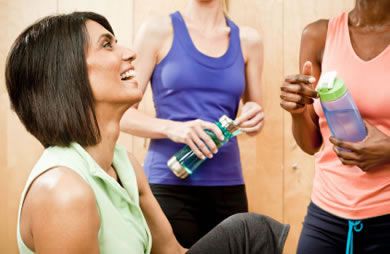 A cool wind whipped around me as I crested the final hill along my running route. "Ah, relief!" I thought, pulling my dripping T-shirt away from my skin. This will cool me off. But instead of making me feel refreshed, the wind chilled me to the bone. "So much for a great workout," I mumbled as I shivered the rest of the way home. I thought I had dressed properly for my run, but apparently I had missed something before heading out the door that morning.

Wearing the right clothing can make the difference between an enjoyable workout and an hour of misery. And investing in some stylish yet comfortable workout clothing is the perfect motivation to get you moving, whether you're hitting the gym, heading for the hills or exercising in the comfort of your own home. I already had enough excuses not to exercise—my workout clothing didn't need to be one more of them.

The big mistake I had made was wearing a cotton T-shirt for my workout. Instead, I should have worn a shirt designed to draw sweat away from the body and move it to the outer surface. These "wicking" clothes (also called technical or performance fabrics) are usually made of polyester and/or Lycra blends. They may cost more than your average cotton T-shirt, but they'll also last longer and keep you comfortable.

Cotton is comfortable, but the more you sweat during exercise, the more perspiration it traps, weighing down your garment and clinging to your skin. In summer, that can prevent your body from cooling properly. In winter, wearing those damp clothes for a workout keeps you cold. Add a cold wind to the equation, and you'll be chilled to the bone, just as I was.

Proper workout attire doesn't stop with your shirt. Cotton socks can also trap moisture and cause blisters, while a polyester-blend sock may help prevent them. Shorts, gloves, hats, running tights, sports bras, workout pants—even underwear—are also available in performance fabrics.

I was ready to cross "discomfort due to clothing" off my exercise excuse list, so I went shopping. Here is what I looked for when purchasing my new exercise clothing.

Comfort
Avoid any rough fabrics that could chafe or irritate your skin during repetitive movement. Choose materials that let you move and don't constrict you. Pay closer attention to fit than size, as some workout clothes tend to be smaller and more form fitting than regular clothes. Look for items that have a small percentage of spandex listed on the label. This allows for a greater range of motion during exercise and can provide a very comfortable fit without being skin-tight.

Continued ›
Article created on: 10/20/2009