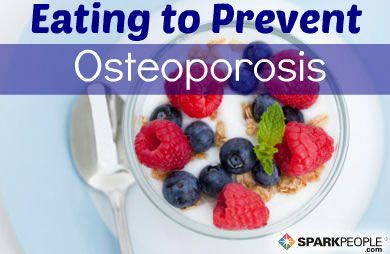 Good eating habits are directly related to the prevention of osteoporosis in both men and women. It is often thought that only women suffer from this disease, but this is not true. While women are more prone to develop osteoporosis, men also suffer from this preventable disease.

Osteoporosis causes bones to lose mass and density. As the bones become porous and brittle, the chance of fracture is greatly increased. To lessen the risk of osteoporosis, try to get at least 1,000 mg (adults ages 19-50) to 1,200 mg (adults over 51) of calcium each day. Use the SparkPeople nutrition tracker to analyze your average intake.

If you're not meeting your needs, include additional milk and dairy products such as milk, cheese, yogurt, or pudding. Don't forget foods made with milk such as cheese pizza, lasagna, and yogurt shakes. Other foods that are good sources of calcium include calcium-set tofu, canned salmon and sardines with the bones, calcium fortified juice, and broccoli.
Continued ›