My Favorite Pumpkin Recipes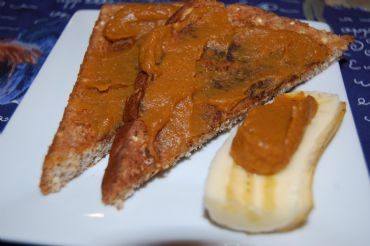 The pumpkin celebration shouldn't end with Halloween! Instead of just displaying those gourds, let's eat them! Here are some of my favorite pumpkin recipes to get you in the spirit! I promise that these pumpkin goodies are not among The 4 Most Fattening Fall Foods or these 5 Surprisingly High-Cal Halloween Treats!


NEW: Chef Meg's No Added Sugar Pumpkin-Apple Butter
I love this spread this over whole wheat toast for breakfast with nut butter or to thicken my fall soups. My son Josh loves it with bananas. You won't believe I didn't add any sugar!

Calories: 19.9
Total Fat: 0.2 g
Cholesterol: 0.0 mg
Sodium: 1.8 mg
Total Carbs: 4.9 g
Dietary Fiber: 1.2 g
Protein: 0.4 g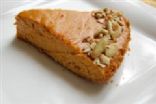 Chef Meg's 'Seedy' Pumpkin Pie
This pie crust has a crunchy addition: pepitas, or shelled pumpkin seeds. They add a nice nutty flavor.

Calories: 168.4
Total Fat: 7.2 g
Cholesterol: 38.4 mg
Sodium: 141.1 mg
Total Carbs: 24.6 g
Dietary Fiber: 2.2 g
Protein: 4.9 g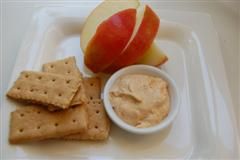 Chef Meg's Pumpkin Dip
Try this dip on a toasted whole-wheat bagel at breakfast or with apple slices or whole-grain crackers for a snack. It's even good with carrots.

Calories: 31.7
Total Fat: 1.7 g
Cholesterol: 5.8 mg
Sodium: 88.3 mg
Total Carbs: 1.6 g
Dietary Fiber: 0.2 g
Protein: 2.4 g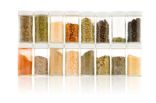 Chef Meg's Pumpkin Pie Spice Mix
There's no need to buy pumpkin pie spice. You can easily make your own at home. And it makes a great hostess gift for any fall event! Feel free to double or triple this recipe!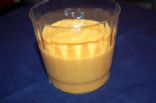 Chef Meg's Pumpkin Smoothie
Kid approved! I tried this recipe on three 12-year-old boys, and they all loved it.
Calories: 258.9
Total Fat: 0.9 g
Cholesterol: 0.0 mg
Sodium: 81.9 mg
Total Carbs: 60.3 g
Dietary Fiber: 9.0 g
Protein: 7.2 g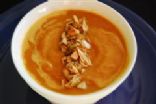 Chef Meg's Pumpkin Soup with Toasted Pumpkin Seeds
After one sip of this savory pumpkin soup, you will be surprised to find it packs a little heat. Your taste buds will do a double take when the expected sweetness of pumpkin is transformed into a savory, nutty, and peppery soup.

Calories: 87.6
Total Fat: 4.1 g
Cholesterol: 6.3 mg
Sodium: 43.6 mg
Total Carbs: 9.5 g
Dietary Fiber: 2.4 g
Protein: 2.6 g



What is your favorite pumpkin dish? Do you prefer pumpkin to be sweet or savory?



Want more healthy recipes from me and fellow SparkPeople members? Be sure to subscribe to SparkPeople's Recipe of the Day email. Click here to sign up!

Did you know SparkRecipes is now on Facebook? Click here to "Like" us!

Like these recipes? Then you'll love "The SparkPeople Cookbook: Love Your Food, Lose the Weight," now available everywhere books are sold.



You will earn

5

SparkPoints

Like what you read? Learn more

about SparkPeople,

or

sign up

for your free account today!
Got a story idea? Give us a shout!