SparkPeople Healthy Cooking Expert and Culinary Instructor

At SparkPeople.com, Chef Meg Galvin develops healthy recipes, tests member-submitted dishes, and teaches the fundamentals of cooking through informative and entertaining videos and articles. A World Master Chef since 2005, Chef Meg was the host of the regional television show The Dish, which aired on a local CBS affiliate and online. Meg now hosts cooking videos on the local FOX affiliate.

Galvin earned a bachelor's degree in business administration from Eastern Kentucky University and a certificate of culinary arts from Le Cordon Bleu in London. She is certified as an executive chef by the American Culinary Federation and is working toward her court of master sommeliers wine certification.

Galvin is a faculty member at Cincinnati State Technical and Community College, home of the Midwest Culinary Institute (MCI), an American Culinary Federation-certified college. In addition, she oversees one of a handful of programs in the country that allows culinary students to transfer to earn a four-year degree in the culinary arts.

Raised on a large family farm in central Kentucky, Galvin now lives in northern Kentucky with her husband and three teenage sons—including twins. On any given day, she can be found hitting the pavement on long runs or cheering on her sons at their numerous sporting events. She balances her busy schedule by incorporating her home life and career, bringing her kids into the kitchen and testing recipes on—and with—her family.
More from Meg:
The SparkPeople Cookbook:

Love Your Food, Lose the Weight
SparkPeople's Ultimate Grilling Guide:

75 Hearty, Healthy Recipes You Can Really Sink Your Teeth Into

The Spark Solution:

A Complete Two-Week Diet Program to Fast-Track Weight Loss and Total Body Health
Read More of Meg's Blogs: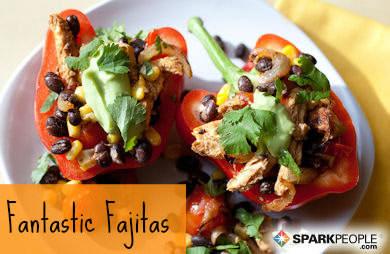 Fajitas are one of those foods that you hear and smell before you see, especially when you order them at a restaurant. The onions and peppers sizzle amongst strips of meat, their intoxicating smells travel through the restaurant, and finally a skillet overflowing with food is presented to you, along with a platter of beans, rice, a stack of flour tortillas and all the trimmings.

Fajitas come from the Spanish word "faja," which means sash, skirt--or girdle. It referred to the type of meat originally used in the dish, skirt steak. When most of us eat fajitas as served, we'll likely need a girdle to get into our pants!

The fajita platter at a popular fast-casual chain has 850 calories, 36 grams of fat, and 2,440 milligrams of sodium (more than a day's worth!). Wow.

At its most basic, a fajita is grilled meat wrapped in a tortilla. The vegetables are a welcome addition, but most restaurants douse them in oil and salt.
Read More ›