SparkPeople Healthy Cooking Expert and Culinary Instructor

At SparkPeople.com, Chef Meg Galvin develops healthy recipes, tests member-submitted dishes, and teaches the fundamentals of cooking through informative and entertaining videos and articles. A World Master Chef since 2005, Chef Meg was the host of the regional television show The Dish, which aired on a local CBS affiliate and online. Meg now hosts cooking videos on the local FOX affiliate.

Galvin earned a bachelor's degree in business administration from Eastern Kentucky University and a certificate of culinary arts from Le Cordon Bleu in London. She is certified as an executive chef by the American Culinary Federation and is working toward her court of master sommeliers wine certification.

Galvin is a faculty member at Cincinnati State Technical and Community College, home of the Midwest Culinary Institute (MCI), an American Culinary Federation-certified college. In addition, she oversees one of a handful of programs in the country that allows culinary students to transfer to earn a four-year degree in the culinary arts.

Raised on a large family farm in central Kentucky, Galvin now lives in northern Kentucky with her husband and three teenage sons—including twins. On any given day, she can be found hitting the pavement on long runs or cheering on her sons at their numerous sporting events. She balances her busy schedule by incorporating her home life and career, bringing her kids into the kitchen and testing recipes on—and with—her family.
More from Meg:
The SparkPeople Cookbook:

Love Your Food, Lose the Weight
SparkPeople's Ultimate Grilling Guide:

75 Hearty, Healthy Recipes You Can Really Sink Your Teeth Into

The Spark Solution:

A Complete Two-Week Diet Program to Fast-Track Weight Loss and Total Body Health
Read More of Meg's Blogs:
Are you ready for some new, healthy recipes to liven up your Thanksgiving Day table? I've created five new recipes that celebrate the season of giving thanks. No doubt about it, pumpkin takes center stage this year, along with squash of all kinds.


Whole Wheat Couscous with Spinach and Squash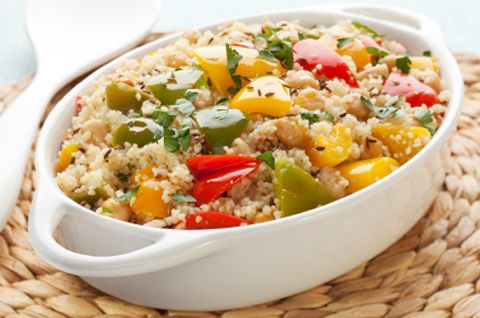 228 calories, 2 g fat

Each one cup portion has a serving each of whole grains and vegetables.
Read More ›