Halloween is just around the corner, and we all know what that means—the holiday season will be upon us before we know it. Unfortunately, the "most wonderful time of the year" also tends to be the most stressful time of the year for a lot of people; especially for those who are striving to lose weight or get fit. How do you avoid falling off the wagon during such a busy time full of food, friends and family obligations? Read More ›
It's almost August, and whether we like it or not, the days of summer are dwindling. Bathing suit season may be mostly behind you, but that doesn't mean it's time to abandon your healthy efforts now that autumn is in sight! Plus, maybe all those barbecues you've attended this summer are starting to show on the scale. Maybe your vacations and kids' activity schedules have taken precedence over your exercise routine. Maybe, now that the wild ride of the season is coming to an end, it's time to get back on track and consciously recommit to your healthy lifestyle. And we're here to help you do it with a brand new challenge!
Read More ›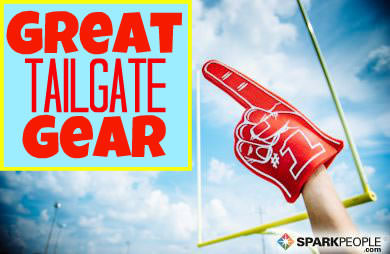 Once you've planned the perfect
tailgate party
, you'll want to stock up on gear to help you celebrate your favorite team and serve up delicious snacks in style.
We've rounded up 10 of our favorite products to make your party even more fun.
(We're showcasing Bengals gear here, since SparkPeople's hometown is Cincinnati, but all the team products listed are available for your favorite NFL teams.)
Read More ›
Whipped cream-laden Thanksgiving pie notwithstanding, pumpkin has a healthy nutritional profile, with more than 200% of our RDA of Vitamin A, plus about one-third of our daily Vitamin C and nearly one-quarter of our fiber requirements. And it has just 40 calories per serving. (Without that whipped cream, of course.)
Canned pumpkin is widely available in grocery stores during the fall/winter holiday season. (
Note:
Be sure to grab plain pumpkin puree, not pumpkin pie mix in a can, which includes sweeteners, spices and other ingredients to make a pie.) One can of pumpkin contains about 1 3/4 cup. Some canned pumpkin can have a slightly bitter taste, so it's best suited for sweet recipes. For pumpkin-based dips or sauces, try making your own pumpkin puree; it's super easy.
Read More ›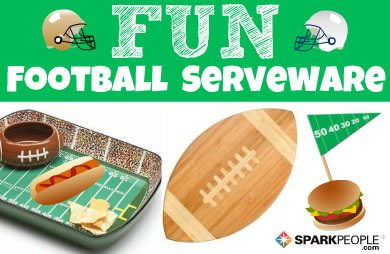 Whether you're having a get together to watch the big game, a Super Bowl bash or a party for your kid's football team, there are tons of great themed accessories available to help bring your
appetizers
to life.
Read More ›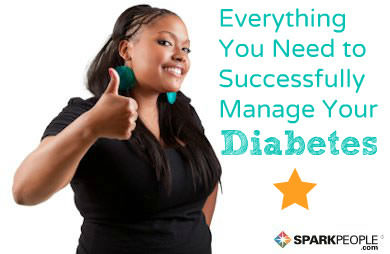 Since November is
Diabetes Awareness Month
, we wanted to take this opportunity to remind you about all the tools and content you can find on SparkPeople to help you successfully manage your diabetes whether you've been diagnosed as pre-diabetic or are living with type 1 or type 2 diabetes. According the American Diabetes Association, nearly 26 million children and adults in the United States have diabetes, while another 79 million Americans have pre-diabetes or are at risk for developing type 2 diabetes. Many diabetes complications can be prevented or delayed with careful attention to diet, exercise, medication and blood glucose monitoring.
Read More ›
Which flavors come to mind when you think about fall? Apple, caramel, cinnamon, ginger? Probably no flavor is more popular or ubiquitous right now than pumpkin. While
Starbucks is celebrating 10 years
since they first offered their famous Pumpkin Spice Latte, it seems like every food company and restaurant under the sun is offers limited edition pumpkin delights these days—everything from yogurt to granola bars to tea.
But just like the aforementioned sugary latte, many pumpkin-flavored treats are high in calories, fat and sugar (or all three). (Check out our list of fall's most fattening foods
here
.) In many cases, you'd be better off having a slice of pumpkin pie, than that "innocent" impulse item tempting you from the checkout line!
So which pumpkin treats are worth trying this fall? We scoured supermarket shelves to discover seasonal offerings that will let you indulge—without breaking the calorie bank.
Read More ›
Tired of the same old exercises? Are curls, raises, rows and squats no longer doing it for you? Fret not, fearless exerciser, for we have a fun workout that will change all of that!
These seven exercises require a little imagination but otherwise no equipment at all. You can do them outdoors, inside a tiny apartment or even on an empty soccer field. As a bonus, this is a workout that your kids will LOVE to do with you—because it feels more like play than exercise. So if you're a mom or dad who needs to squeeze in exercise on top of childcare responsibilities, this is a win-win-win. (The extra "win" is because your little one will become your accountability partner and will ask to do the whole routine with you again and again!)
Read More ›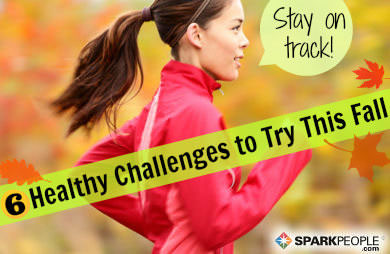 The days are shorter, the weather is colder, and the couch is looking a whole lot comfier. This time of year, attendance at the gym drops and our desires to exercise and eat right fall lower on our priority list. Between back to school, tailgating, Halloween, Thanksgiving, Hanukkah, the year-end frenzy at work, Christmas, New Year's and everything in between, it's no wonder we need to "restart" again on January 1.
As fall morphs into the busy holiday season, let's choose to make this year different. Let's commit ourselves to
just one simple goal
to stay on track. You might not be able to do everything perfectly between Halloween and New Year's Eve, but you
can
do
something.
SparkPeople has a lot of fun, simple and effective challenges that are the perfect pick-me-up for your program. I would recommend choosing ONE program listed below to focus your efforts. These are all great ways to re-commit this fall and hit the ground running this holiday season!
Read More ›
As much as
I love fall
, I don't love the darkness that comes with it. It's already getting darker earlier each night, and it's staying dark even when I wake up in the morning. I am not a fan of that!
It's hard enough to
be a morning person
and wake up to work out, but when the moon is still out when your alarm goes off, forget about it! Then again, if you hit snooze and wait to work out after work, you might be faced with the same problem.
I will admit that it's not easy for me to get up and be gung ho for a workout session. I am not and never will be a morning person. It's hard for me to wake up just about every day. But I do manage to stick to my morning workouts (most days anyway). And no, I don't have super human powers …which means you can do it, too. Here's how.
Read More ›
We're taking a big step in helping you get fit! SparkPeople has just released the
Spark
, our very own activity tracker that integrates perfectly with the rest of SparkPeople's online tools. The
Spark Activity Tracker
requires no charging, determines the specific type of workout you're doing (walking vs. running vs. elliptical) and automatically logs your fitness minutes directly to your SparkPeople Fitness Tracker!
The new Spark Activity Tracker is just one more way to get you motivated and moving toward your goals—and we're here to help you along the way. Everyone who uses a Spark is eligible to participate in monthly fitness challenges that will motivate you to get out there and walk, run or bike your way to reaching your goals each month. Our very first challenge, the
Trick or Track Halloween Challenge
, starts on
October 1
and offers some BIG prizes!
As you know, we're now on Instagram, the photo and video sharing app! We love how easy Instagram is to use and that it allows us to share fun, healthy tidbits from behind the scenes at SparkPeople every day. While we do love writing about healthy living, it's true that a picture is worth a thousand words.
Over the last few months, we've loved seeing your photos documenting your healthy living habits. From your daily lunch photos to selfies after the gym, we love witnessing the proof that healthy living is possible--and fun!
You know how much SparkPeople likes challenges. We had such fun with our
#backontrack consistency challenge in August
that we're doing another one--on Instagram this time!
Read More ›
Summer is winding down and now my favorite season of the year is here: fall. I have always felt nostalgic and dreamy this time of year. I think it's because I enjoyed school as a kid and still associate the autumn season with the start of a new school year that promised good times, good friends and even better memories that still live with me today, like the smell of bonfires, Friday night football games, donning my favorite new back-to-school clothes, and my feet crunching on leaves in the crisp weather. Fall even smells better, if you ask me.
Why not harness the magical power of this new season (which begins officially on September 23) to recommit to your healthy living goals and weight-loss program? You may not be heading back to school like you did in years past, but that doesn't mean that you can't reinvent yourself all the same.
Read More ›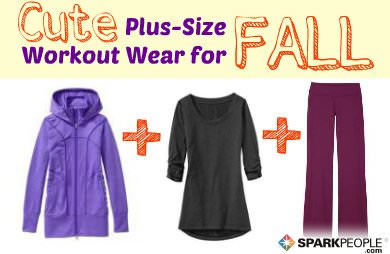 Since I started working at SparkPeople this April, I've gotten into the habit of wearing workout clothes to work on most days of the week. It helps me fit in fitness breaks throughout the day without having to spend time changing clothes. But because I'm wearing fitness gear so much, my old ratty yoga pants and oversized T-shirts just aren't cutting it anymore. If this is what I'm going to wear every day, I want to look cute, too! Luckily, it's getting easier and easier to find cute workout clothes in extended sizes. (I wear a 14 or 16 depending on the brand.)
Fall
is a tricky season for exercise clothes. It can be quite cool in the mornings but then warm up throughout the day. There are also sometimes weeks of lingering summer heat or sudden, overnight cold snaps. At least that's what it's like here in Ohio. If you don't like the weather, just wait 24 hours and you'll get something completely different! My strategy is to dress in layers and to always keep some of my summer clothes in the rotation until the first freeze of the season. Here are some of my current favorites and some things I'm putting on my list for fall shopping.
Read More ›
Fall and winter squash varieties, including acorn, butternut and spaghetti, are now showing up in farmers' markets. You'll be delighted by how delicious, easy to prepare and versatile spaghetti squash can be.
Spaghetti squash is named for its uncanny resemblance to pasta once cooked. The squash is tasty yet neutral enough to pair with anything you would normally eat atop pasta.
And, if you're watching your carb intake, spaghetti squash should go in your cart. Take a look at how it measures up against standard noodles:
Read More ›
Read More Entries ›