Going Nuts for Flavored Nut Butters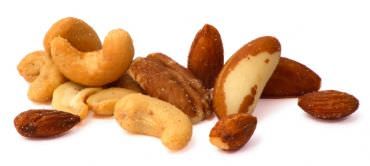 Every day in elementary school, my mom packed my sister and me the same lunch: PBJ (always with natural peanut butter and Gramma's homemade jams on wheat bread), a pouch of real juice, a piece of fruit or some carrot sticks, and a granola bar or a fruit roll-up. I never tired of it, but around age 7, I did decide that I needed to be independent. I wanted whatever my sister didn't have. I announced to my mother, as she handed me my lunch, that I no longer ate grape jelly. I would henceforth require only strawberry jam on my sandwiches, please and thank you, mother. My sister could keep the grape jam, and strawberry would be mine and mine alone, (I embellish the dialogue only slightly. Ever the precocious child, I was a cross between Eloise and Fancy Nancy. I almost flunked gym class in first grade because I refused to wear sneakers, and I took pride in telling people I never wore pants the entire year of kindergarten. I digress…)

Suddenly, my boring old sandwich was new again. Strawberry jam was so much better than icky grape, and 22 years later, I don't think I've eaten grape jelly since then.

In junior high, my beloved PBJ fell out of favor when I decided that skipping lunch was the cool thing to do. (All those raging teenage hormones, plus low blood sugar, equaled one cranky Stepfanie. Not my smartest move.)

Then came college and my first apartment. I was strapped for cash and time. A PBJ was a quick dinner, so I thought. Later that night, I was sick, bent over with horrible stomach pains. I blamed stress. Eventually, a doctor diagnosed me with a peanut intolerance (so thankfully no life-threatening symptoms), and, separately, a cashew allergy.

In addition to losing my PBJs, I could no longer eat mixed nuts, pad Thai, several kinds of curries, and the world's best flavor combination: chocolate and peanut butter. (Now if only we could get airplanes to stop serving peanuts. I always end up with a migraine after flights when they serve peanuts.)

Then along came a nut (a drupe, really) that made me forget peanut butter ever existed. The almond.

Why am I sharing this story with you today? I'm sharing this story because almond butter is expensive, and fancy nut butters are all the rage. And I have the recipes to prove it.

As a frugal gal as well as a healthy one, I took it upon myself to learn to make my own almond butter. Not only can I be certain I won't end up with hives after eating it, but I'm also saving plenty of money in the process. I share the simple directions in this post.

Once you have the basics of homemade nut butters

down pat, venture into tastier territory. My favorites: roasted almonds and raw pecans, raw walnuts, or sunflower seeds. For some recent birthdays, I gifted dark chocolate almond butter (1 pound almonds, roasted at 325 degrees for a few minutes until just fragrant, then tossed in the food processor with dark cocoa powder and raw sugar to taste).

These are some of my other favorite nut butter recipes:

Roasted Maple Cinnamon Almond Butter

Raw Almond Pumpkin Seed Butter

Low-Cal Peanut Butters

Pumpkin* Spice Almond Butter (my favorite) and so many more

(Read these articles for more info on incorporating seeds and nuts into a healthy diet.)

What is your favorite kind of nut butter? Have you ever tried to make your own?

*While we're talking about pumpkins, I have to mention that this year I've sworn off pumpkin spice lattes for plain coffee with a squirt of (usually) homemade pumpkin syrup. It took me awhile, but even occasionally spending almost $5 for a coffee seems absurd! If you're a latte addict, you must try this instead!





You will earn

5

SparkPoints

Like what you read? Learn more

about SparkPeople,

or

sign up

for your free account today!
Got a story idea? Give us a shout!