Finding Your Perfect Size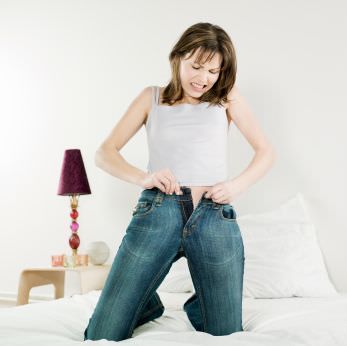 Having spent many years hating the thought of going into a mall only to scour the racks for hours in quest of the perfect outfit, I just knew once I lost the weight I would join the ranks of those loving to spend a Saturday afternoon with their girlfriends taking in some nice retail therapy. However, that has not been quite the case.

One of the most frustrating aspects to shopping for me is going into a store and having no clue what size I wear. Because there is no standard size for clothing, I literally have to take two or three different sizes into the fitting room with me to try on. I can wear anything from a size 4 to a size 10 and in some cases a 12. There was once a time that I knew my size, but that is not the case anymore. It all comes down to trial and error. This includes every article of clothing from my running gear to casual wear to evening wear. It has become such a chore to go shopping that once I find the so-called 'perfect' pair of jeans I buy in bulk just so that I can avoid the trials of having to try on hundreds of different styles to find yet again the 'perfect' pair.

But what if there was a way to find the perfect article of clothing in the brands you wear which would fit your measurements to a T simply by stepping into a size matching scanning station for 10 seconds, would you do it?

Last week I was watching my local morning news show when one of the reporters did a story on a new fangled way of getting the proper fit for a variety of clothing brands without having to step in each store and trying on clothes for hours.The answer may be just a mall trip away.

Several of our local malls here in the Dallas area are now offering a service by a company called Me-Ality. This free service allows any individual, male or female, the opportunity to step into the size matching station scanner for 10 seconds after which the client is then given a printout of clothing brands and the sizes that are tailored just for them based on the measurment feedback after one is scanned.

The reporter tried on various brands of jeans and amazingly they all fit her perfectly. While I have not personally used this service, it would most definitely be something I would consider. Unfortunately this service is only available in a few areas of the country—Dallas, Phoenix, Chicago, Atlanta and Philadelphia, but according to their website, they are adding new locations for future malls, so check the website frequently to see if it is in your area.

With so many of us having so little time to spend hours at the mall going from store to store trying to find the perfect pair of jeans and pants, the Me-Ality scanning station may just be the answer you need to help take away the frustrations of looking for that perfect outfit.

Would you use this service if it was available to you? Have you used this service? If so, did you find it helpful?



You will earn

5

SparkPoints

Like what you read? Learn more

about SparkPeople,

or

sign up

for your free account today!
Got a story idea? Give us a shout!