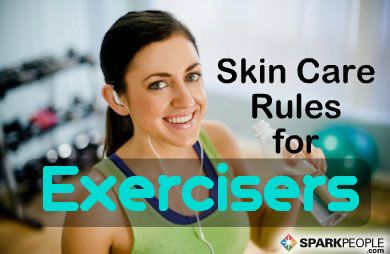 There's no disputing the fact that exercise is good for the human body. So it stands to reason that exercise would also benefit the body's largest organ: its skin. But does working up a sweat actually do anything good for your skin—or make you more prone to breakouts?

Exercise and Acne: Is There a Connection?
While your heart, lungs, muscles and bones arguably gain the most benefit from exercise, the positives of leading an active life aren't a stranger to your skin. In fact, according to the National Institute of Arthritis and Musculoskeletal and Skin Diseases (NIAMS), exercise increases blood flow to the surface of your skin and brings oxygen and nutrients to your whole body—skin included.

Then there's the other benefit of exercise: sweating. Sweat is made mostly of water, with small amounts of ammonia, urea, salts and sugar. When you sweat, these impurities are flushed from your skin. But what does that mean for people who are prone to acne? It might help, but it doesn't necessarily hurt, say the experts at the Children's Hospital of Colorado (CHC). Sweat in itself neither fights acne nor causes it; but the increased blood flow, unclogging of pores from sweating, and stress reduction that result from exercise may all benefit the acne sufferer, says the CHC.

While working out can be beneficial to your overall skin health, you'll want to avoid doing anything to exacerbate existing skin problems or cause irritation. Avoid wearing clothing that rubs against your skin during exercise, and if you wear a helmet, hat, sunglasses or other protective equipment while you move, clean it often as these sweaty surfaces can collect dirt and oil that can be transferred to your skin.

Exercising or not, you should always avoid touching your face to prevent blemishes and clogged pores. Be especially aware of this when you're working out. Touching your face can transfer oil and bacteria (which thrive in moist, humid environments like the gym) to the skin, leading to possible acne flare-ups. If you need to wipe excess sweat, blot your skin with a clean, dry towel and avoid rubbing or wiping the skin with your hands, shirt or towel.

For those with longer hair, wearing hair back and keeping your hair or bangs off of your face can prevent additional dirt and oil from clogging your pores. Plus, a ponytail can keep you from touching your face and hairline if your hair frequently gets in the way. When it comes to makeup, most makeup on the market is noncomedogenic—so it shouldn't clog pores even if you wear it while working out. Keep in mind, too, that over-washing your face can lead to irritation, so a pre- and post-workout wash may be too much for your skin. Your best bet may be to go to the gym sans makeup and wait until after your workout to apply it. Get more post-workout beauty tips.

Continued ›
Article created on: 5/29/2012