Betting On Weight Loss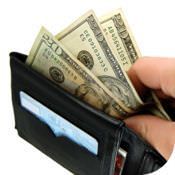 Would a cash incentive make you more likely to stick with your weight loss program? Recent studies suggest that "diet bets" work for many people who haven't been successful at losing weight by other methods. So how exactly does it work? People who enter into the bet lose cash if they don't lose more weight than their competition. Money becomes the big incentive to shed the pounds.

A study in the December issue of the Journal of the American Medical Association found that people who had financial incentives to lose weight were much more successful at dieting than those who did not. Dieters were especially successful when the money was not awarded until the end of the competition. Weekly progress reports and feedback were also a key to keeping participants motivated.

Internet sites that facilitate diet betting have recently seen an increase in traffic. One site requires members to sign contracts related to their goals. Members provide credit card information and are charged weekly if they don't meet those goals. Most participants set goals related to losing weight.

Perhaps you've participated in the annual office pool to lose weight. Winning money and bragging rights can be a great incentive. You're much less likely to reach for the doughnut during the morning meeting if you know your competitors are watching your every move. How's that for peer pressure? Or maybe you've made a bet with your spouse that whoever loses the least amount of weight has to do laundry for a month. Even if the bet isn't financial, it can still be a huge source of motivation.

What do you think? Is money a good motivator for weight loss? Would you be tempted to join a site that charged you money for failing to meet your goals?




You will earn

5

SparkPoints

Like what you read? Learn more

about SparkPeople,

or

sign up

for your free account today!
Got a story idea? Give us a shout!