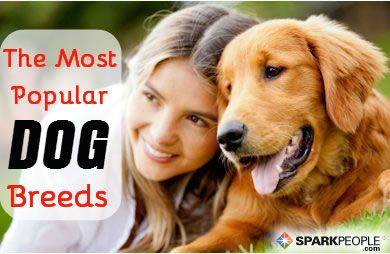 Mixed-breed dogs make up more than 50% of all the dogs in the United States, so technically "mutts" are the most popular dog in America. A survey of these mixed-breed pets in 2010, which included 36,000 DNA tests, revealed the most popular breeds to be:

1. German shepherd
2. Labrador retriever
3. chow chow
4. boxer
5. rottweiler
6. poodle
7. American Staffordshire terrier
8. golden retriever
9. cocker spaniel
10. Siberian husky

What's interesting about this list is that it's not the same as the 2012 American Kennel Club's list of most popular dog breeds, which includes these in the top 10:

1. Labrador retriever
2. German shepherd
3. golden retriever
4. beagle
5. bulldog
6. Yorkshire terrier
7. boxer
8. poodle
9. rottweiler
10. dachshund


Let's take a closer look at the breeds that made it onto both lists. Keep in mind that breed standards have more to do with looks than personality. Each individual animal will have its own personality and temperament. You can use breed descriptions as a general guide to what a dog will be like, but nothing beats spending time with the animal or its parents to get a true sense of its disposition.

Labrador Retriever
The lab has a reputation as a family-friendly dog that makes a wonderful pet for people with small children.


Breed Purpose

: It was originally bred in Canada to help fishermen and then became a hunting dog used to retrieve game. A member of the sporting group, this breed is known to be active and enjoy the water.


Average Size: 55-75 pounds

Average Lifespan: 10-12 years

Common Health Issues: Canine hip dysplasia, elbow and shoulder dysplasia, kneecap dislocation.

German Shepherd Dog
The German shepherd is a popular pet but is also known as a police and military dog.

Breed Purpose
: This breed was originally created in Germany to guard and herd sheep. A member of the sporting group, the German shepherd requires regular exercise and mental stimulation.
Average Size
: 55-95 pounds
Average Lifespan
: 10-12 years
Common Health Issues
: Hip and elbow dysplasia. Because of their barrel-shaped chest, they can also develop gastric torsion (where the stomach becomes dangerously bloated and sometimes twisted, which would require immediate surgery).
Continued ›
Article created on: 6/26/2013