A Day that Changed my Life: Reflection on the First SparkPeople Convention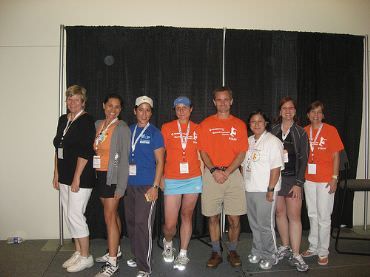 I once read that it is through our life experiences that we define who we are. By far one of the most touching and heart-felt experiences in my life happened on May 2nd at the first SparkPeople Convention in San Diego. This great event truly taught me we are never alone in this journey we call life. And while the journey to reclaim our lives may seem daunting, know that you will always have a friend somewhere on SparkPeople to walk it with you.

Photo compliments of Mary aka LILHLFPINT

I was so excited traveling from Texas to San Diego; not only would I get to meet our great members, but being so far removed from the Cincinnati home base, I have only corresponded with my fellow Spark co-workers via email and a few phone calls. This was my first time to meet them in person. The minute I saw Coach Nicole, Dietitian Becky, Dave and his wife Angie at the airport, I knew I was in for the time of my life. What a pleasure and treat to meet others who share the passion of helping others.

We arrived at the convention center around 2:30 P.M on Friday. and I was honored to finally meet the man who has truly touched and transformed not only my life, but many, many others—Chris 'SparkGuy' Downie! What a moment it was! Then to meet Jenny, Beth, Tim, Tami and Kristy! WOW, what a GREAT group of people. What a fantastic job they did helping make this day the best! Everyone at SparkPeople did their best to make this day special to all our members in attendance and they did just that!

I can honestly tell you, these people are sooo PASSIONATE about their jobs! They are just as moved by our member's stories as you are. This is not just a job for them--it is their mission--a mission to help everyone reach their goals.

And what can I say about our members? You all were the inspiration for this convention. I will echo what I said in my presentation. As much as you all are inspired by the folks at SparkPeople, we are just as inspired, if not more so, by you. You are what makes SparkPeople what it is—A FAMILY!

Someone asked me if I was nervous before I gave my presentation. While I was extremely nervous on Friday, once I met so many of our members, I no longer had that fear. Why, you might ask? Because I was not talking to an unknown group of people; I was talking to people who are walking the same journey as I am and who have experienced the same situations I have. I was talking to friends! No matter where you are on this journey, I hope you know this is one that never requires you to walk it alone.

While I am slowly returning back to my normal routine, I will always have fond memories from San Diego. And for those of you who so graciously passed a SaprkGoodie card my way, they were planted right up there on my wall of inspiration! I hope this is just the beginning of many, many SparkPeople Conventions to come. THANKS to everyone for your kind generosity--my heart is a few sizes bigger then it was just a week ago.

Stay tuned to SparkPeople.com for more details and an in-depth recap from the event coming soon!


If you were in San Diego I hope you will share your story. If not, let us know what you think would make a great convention for you.




You will earn

5

SparkPoints

Like what you read? Learn more

about SparkPeople,

or

sign up

for your free account today!
Got a story idea? Give us a shout!