7 Ways to Eat Mindfully on Thanksgiving or Any Day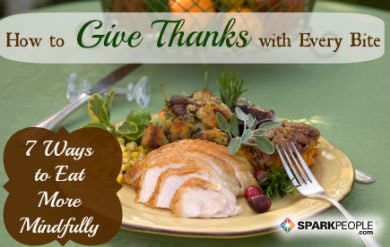 My mother is the most mindful eater I know. She is 90 years old, and I have never known her to rush through a meal, eat in a car, dine in front of the TV, or consume food out of a box or bag. While she is showing signs of dementia, my mom is still fully aware of the food she is consuming at all times. She eats when she is hungry and stops when she is full.

An avid gardener, canner and freezer for most of her life, she treats food with respect, values the labor needed to bring it to the table, appreciates how it nourishes the body, and cherishes the variety of flavors and texture that come from quality food and impeccable preparation. When I take her out for lunch, I know I need to be prepared for a meal that will last at least 75 minutes… and it's not because of slow service. My mother will correctly set the table at a restaurant where the silverware is all wrapped in the napkin. She will carefully place the napkin in her lap and talk about the need for cloth napkins.

On a recent fried chicken adventure, we discussed the coating and frying technique, the homemade mashed potatoes with just a few tiny lumps, the tangy coleslaw, and the cinnamon-sugar sweetened acorn squash. I am sure you will understand why I had to giggle as I recently read how one can now dine with Buddhist brothers for a "day of mindful eating" at the Blue Cliff Monastery. Trust me: These monks have nothing over my mother.

This Thanksgiving season may be the perfect time to start dedicating a little time daily to increase your appreciation and focus on the foods you select, prepare and eat.

Start with small, simple steps. Implement techniques and easy acts to eat more slowly, experience the flavors of food more intensely, and to seek pleasure in the complete eating process. I share these ideas as a starting point:

Shop at a local farmers market and obtain several food ingredients that were locally raised or produced. Take time to talk to the vendors or perhaps the actual farmers. Discover 1-2 farming practices that were used to bring this food into your possession. Understanding the hours of labor, skills used and resources needed to feed the masses increases one's appreciation for the food. Food does not just miraculously appear at the store or on the table.

While at the grocery store, imagine the steps needed to get that food from the farm to your store. The harvesting, processing, traveling, loading and unloading, storing and stocking, selling and bagging. One natural disaster or man-made error brings the entire system to a screeching halt, altering food safety and food availability.

While you prepare your family favorite recipes for your Thanksgiving feast, remember how modern kitchen equipment and supplies have greatly altered the cooking process and food choices. Think about running water, refrigeration, small and large electric appliances, your stove, range top and microwave. Could you possibly prepare a meal without them? Savor the smells of the ground cinnamon used in the pumpkin pie, the sage in your dressing, and the buttery-sweet yeast-leavened dinner rolls. Become aware of the motions of your body as you stuff the bird, mash the potatoes, and stir the gravy. Experience the coolness as you open the refrigerator, the stifling heat of the oven, and the warmth of the dishwater in your sink.

Prior to eating, turn off the distractions: television, radio, phone and computer. Quiet your mind as you prepare to "dig in," but first stop, take a deep breath, and position your body for the bounty you are about to receive.

First, give attention to your hunger. What messages are you receiving that your body needs food? Where are the places in your body that you feel hunger? As hunger increases do you become light-headed, does your tummy growl, or do you become anxious?

Give 100% attention to every food on your plate. As you take the first bite, notice the size, shape, and color. Feel the texture and delight in the flavor as the food travels your mouth and coats every taste bud. Experience your food intently and enjoy the pleasure it brings. Notice the feeling of comfort as your hunger subsides.

You will probably discover that this level of focus is difficult to maintain. You probably won't be able to do it 100%. But like all new habits, it is a work in progress. Continue with your mindful eating project. Set weekly goals as you increase the number of meals and amount of time you are able to dedicate to this practice.
Become present at your meals this holiday season by shining the spotlight on your food selections and the act of eating. This mindfulness can play a huge role in changing the way you approach, enjoy, honor and relate to food.

NOTE: If Thanksgiving Day is too chaotic for this mindful eating project to begin, feel free to select another starting date in November.

Have you ever implemented a mindful eating technique? Describe the experience.



You will earn

5

SparkPoints

Like what you read? Learn more

about SparkPeople,

or

sign up

for your free account today!
Got a story idea? Give us a shout!