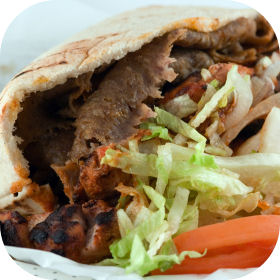 Sometimes, general dining out strategies can only help so much. When you eat at a privately-owned or ethnic restaurant, there's often no pamphlet or website with nutritional information and amenities offered. How do you know what to order, especially when you're bringing children along?

That's why we researched and collected tips for the most popular restaurant cuisines.

This article is part of our BabyFit Family-Friendly Dining Guide. We tried to emphasize kid-friendly foods and health at the same time. As we believe in all things in moderation, you'll find a few indulgences and treats on each of our menus. We also provide pros and cons about this type of cuisine, plus some activities to entertain children at restaurants.

Opa! Greek food is fun, fresh and fast! From hummus and pita to gyros pronounced yeer-oh, by the way , there are plenty of foods for the whole family.

Kid-friendly dishes

Appetizers/Sides
Hummus and pita: Hummus is a dip made from chickpeas (garbanzo beans), but we won't tell if you won't.
Avgolemono: Rice, egg and lemon freshen up Greek chicken soup.
Spanikopita: Flaky and buttery phyllo dough hides cheese and spinach.
Dolmas: Grape leaves stuffed with rice sound strange, but they're delicious.
Entrees
Pastitso: "Greek lasagna" uses a creamy sauce over meat, noodles and vegetables
"Greek pizza": Pita bread topped with tomatoes, cheese and vegetables will please any pizza lover.
Tabouli: Bulgur wheat mixed with tomatoes, cucumbers, parsley, mint, olive oil and lemon juice is mild. With its small pieces, it's great for kids.
Treats
Greek pastries: Keep wet wipes handy when the kids dig in to a honey-laden treat.
Thumbs-up
Greek salads are always full of vegetables and light vinaigrettes.
Mezza platters (appetizer platters) are a great way to get kids to try new foods, like baba ghanoush (roasted eggplant dip).
Thumbs-down
Gyros, those ubiquitous Greek sandwiches of meat wrapped in a pita with vegetables, are a bit unwieldy for tiny hands. Offer bite size pieces from your own sandwich.
Greek pastries can often contain nuts, which can be a food allergen for little ones.
Pastitso and a similar dish, moussaka, is smothered in a cream sauce.
Table talk
Tell kids that Greece is a group of islands. Ask them what three items they would take with them if they were on a deserted island.

Note: Pregnant women should avoid eating deli and processed meats, soft cheeses, and some types of seafood due to the risk of illness to herself and her unborn child. Eating raw or undercooked meat, poultry or seafood also poses health risks. Find more information on which foods to avoid here.