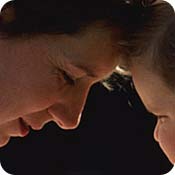 "During my first pregnancy, I used to get so wound up about the whole labor and delivery process… I don't know what I was thinking, and I had an excruciating labor—more than 32 hours. This is my second pregnancy and I am much more relaxed. I try to walk every day and make a point to take a few minutes to just sit in silenceevery day. I'm not worried about labor, and am sure things will progress much more swiftly this time." -- Margaret H., M.D.
During pregnancy, relaxation and meditation are just as important to your health as proper nutrition and exercise.

Why is it important to relax during pregnancy? Recent studies suggest that excessive stress, whether physical or emotional, can cause the body to produce hormones that may increase the likelihood of miscarriage or even bring on pre-term labor.

The emotional effects of too much stress may also exacerbate mood swings, and increase depressive episodes and feelings of anxiety. The Fetal and Neonatal Stress Research Group has found that stress and anxiety can negatively impact the fetus and may have long-term effects, including hyperactivity.

It's important that you do everything possible during your pregnancy to adjust your lifestyle and accommodate your need to relax. Remember-- all the stress you feel is stress that your unborn baby will feel too!

That's why, when combined with exercise and a healthy diet, a routine regimen of relaxation and meditation will result in a happy and healthy mother and baby. Relaxation and meditation exercises will also help facilitate the labor and delivery process, preparing you for the tremendous feat of labor.

Meditation
You can try many different methods of meditation while you're pregnant. One simple meditation, known as the "Tantien" Meditation, focuses on improving your overall energy:

Place your hands on your lower belly over the uterus.
Close your eyes and breathe in slowly through your nose.
Exhale.
You should breathe normally, but concentrate on the flow of air through your nose.
Pay attention to your belly as it moves downwards on each exhalation.
As you take in each breath, your center of energy, or Tantien, expands. The aim of this meditation is also to improve your concentration and relaxation.

You don't need to do any specific meditation to effectively relax. Consider simply taking five minutes out of your day as quiet time. Settle in a place where you will not be disturbed. Close your eyes and allow your thoughts to flow freely. Try not to analyze what you are thinking or dwell on any one thought too long.

Continued ›