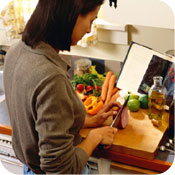 Step into any supermarket these days and you're sure to find a wide variety of organic foods on the shelves. From produce, milk and meat to breakfast cereals and snack foods, consumers have their pick of certified organic products-a far cry from the time when you could only find organic items in natural foods stores. The demand for organic foods continues to grow. According to the Organic Trade Association, organic food sales have grown about 20 percent in the past five years, with 2006 sales expected to exceed $15 billion. More than half of Americans have tried organic products, and this number is expected to increase as more people become aware of the long-term effects of pesticides and chemicals.

People buy certified organic foods because they believe organics are healthier than conventionally farmed foods. (Read "Why Go Organic" to learn more.) But adding organic foods into your diet can be expensive! Does your whole diet have to be organic or are some conventionally grown foods just as healthy?

Prices for organic foods have dropped in the past five years, but organic items are still generally more expensive than conventionally grown foods. If you would like to buy organic anyway, here are some tips to make an organic diet more affordable:
Make a gradual transition over the course of a year to familiarize yourself with prices and products.


Comparison shop to find the most economical organic items. Within the same city, organic produce prices vary greatly. Sometimes the large supermarket chains will win out, while other times natural food stores (chains or privately-owned) can be more affordable. By shopping around, you'll get a general idea for which foods are cheaper at certain stores, or which location offers the most deals overall.


Create your meal plans around the most affordable produce, meat and grain products.


Improvise recipes if an organic ingredient isn't available or affordable. You might find something else that works just as well, or even better than the original ingredient.


Invest in organic meat, cheese and milk (over produce and grains) if your grocery budget is tight. Conventional meat and dairy products often contain hormones and show the highest concentration of pesticides.


Find local organic growers and buy directly to save money. Farmers markets often offer organic items.


Select seasonal produce as much as possible. If you want strawberries in winter, for example, buy frozen (or else your pocketbook will suffer). Frozen organic produce is often available at big warehouse stores as well.

Continued ›