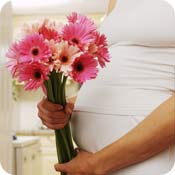 The squishiness shocked me.

When my first son was born, I had read enough pregnancy books and talked to enough moms to know I would leave the hospital with my baby and a body that still looked four or five months pregnant. But standing in the tiny shower of the hospital room, looking down at the crepe-y skin around my belly button that was still discolored from the linea negra that ran down my abdomen, I was surprised by how squishy, deflated and just sad my belly looked. Being five months pregnant means you have a hard little baby bump. Looking "five months pregnant" postpartum means you have a fleshy sack sagging below your navel.

Exercise, once you're cleared to do it, and a healthy diet will return your body to its pre-pregnancy state. But the transition takes time. And you might find, as did I and most of the other mothers I know, that your body is shaped differently even after the scale hits the pre-pregnancy mark and your pants fasten again. You didn't just give birth to a baby; you've given birth to a new you.

Feeling a little sad about your postpartum body is natural and normal. I will always miss my tight belly button--and some women are genetically blessed with rubber band-like bodies that show no battle scars from pregnancy and delivery. Yet, different doesn't have to mean bad. The trick is learning how to flatter and flaunt the new version of you, the Momma Lady, as my son calls me.

To start, take care of your body. The new mom too tired and busy to shower or brush her teeth is a cliche because it's true; however, it's also a dangerous rut to fall into. Those first weeks with a newborn are a blur of feedings, doctor's appointments and diaper changings that make it hard to look after yourself. But repeat after me: A happy mom is a happy baby.

A friend calls this the Oxygen Mask Rule--you know how on an airplane, adults are advised to put their own oxygen masks on first before helping a child with hers? It's like that. An oxygen-deprived adult helps no one in an emergency. A dirty, depressed momma makes for a stressed-out baby. That fuzzy film on your teeth or the poo stain on your shirt is not going to make you feel good about the skin you're in. Furthermore, if the baby cries for five minutes so you can brush your teeth and change your shirt, he will survive. I swear. Get a bouncy seat, enlist your partner, find a swing. Just do whatever it takes for you to feel, at least for the five minutes before your baby spits up on you, like an attractive, desirable woman.

Secondly, ditch the maternity clothes and schlubby athletic wear. I know the rigors of labor and delivery call for loose, comfortable clothes. And yes, whatever you're wearing is just going to be covered in bodily fluids by the end of the day. But find some comfortable clothes that fit you, right now, as you are. Maternity clothes--or your husband's giant T-shirts--are going to accentuate the fact that you still look pregnant.

Instead, shop your closet to find pieces that fit and feel good. This is a rather tricky proposition, I know. You risk feeling terrible when your favorite pair of jeans won't even come close to fastening. But it can be done. Figure out what time of day you feel the best and most cheerful. Once a week or so, take a few minutes and try on just one or two items at a time. I found it was best to do right before I took a shower. I always felt skinniest in the morning, before breakfast, and had to hurry, which made it impossible to linger and fret over my closet and all the things that didn't fit. Things will start fitting, I promise.


Flattering Transitional Pieces
And until they do, pick up some transitional pieces that make you feel good.
Before the baby is born, get some stretchy yoga-type pants and T-shirts in your prepregnancy size--maybe one size up, depending on how much weight you gained and how your body looked at five months pregnant. Those will get you through the first month or so.


When your body has settled a bit into a new shape and you're sick of the clothes that fit, buy a few new essentials--a pair of jeans, a skirt and a shirt or two that make you smile.


Don't worry about sizes. Just buy what fits.


Go someplace cheap. You might have to do this again in a month or two.


Determine what your best asset is now and flatter it. Bigger breasts thanks to nursing? Head for the V-neck shirts. A curvier figure thanks to birthing hips? Cinch that waist.

Clothes for Every Body
Here are a few things that look good on almost any body type:
Wrap dresses. As a bonus: easy access for breastfeeding.


Jeans that hit just below the natural waist. Low-rise jeans with muffin tops are just as unattractive as high-waisted Mom jeans. Find the balance.


Button-down shirts. Make sure they fit in the shoulder and throw them over a tank top.


A-line skirts. A skirt instantly makes you look more put together.
And when all else fails, buy a great pair of shoes. On my first shopping expedition, I found a pair of red, patent leather pumps. They were silly and impractical, but they were also only $20 and they made me feel great! I bought them, wore them and suddenly my squishy belly didn't matter so much.