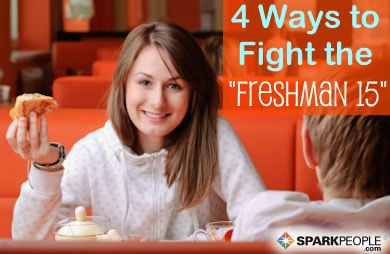 College brings many life changes that most young adults are excited about: moving away from home, becoming more independent, pursuing a passion and making new friends. But one of the things on most freshmen's minds is the dreadful "Freshman 15"—the weight new college students allegedly gain during their first year of college.

First, the good news: Those notorious extra pounds are a mere myth! A 2011 study published in Social Science Quarterly showed that the typical weight gain during the first year of college is just 2.5 to 3.5 pounds and has little to do with higher learning and more to do with becoming a young adult (commence awkward flashback to health class about your "changing body" here). The not so good news: About 10 percent of freshmen will gain 15 pounds or more during their first year. And that's just the first year. Experts aren't as concerned about these actual pounds as they are about the rate at which students put them on. A 2008 study found that college students gain weight six times faster than the general population. And according to researchers, young adults continue to gain weight (1.5 pounds per year on average) during the four years after they graduate, too. Not all of this can be chalked up to "growing up," though. If left unchecked, the weight gain many experience as young adults can become a serious problem.

So what causes young people to gain weight rapidly when they enter college and the working world? No study has offered conclusive proof, but the authors point to several likely culprits.

1. A change in eating habits. It's no secret that your eating habits can change dramatically when you leave home and have total control over what, when and how much you eat every day. Suddenly, there's no parent to make sure you're eating your vegetables. There are late-night study sessions that can lead to pizza binges. On top of that, "use it or lose it" meal cards and all-you-can-eat dining halls often encourage you to eat more than you should. But there are lots of ways to eat healthy on campus even if you don't have a kitchen. If you didn't leave high school health class with a full understanding of proper nutrition and healthy cooking, you're not alone. Make up for what you missed by educating yourself on nutrition here at SparkPeople, starting with this beginner's guide to healthy eating.

Continued ›