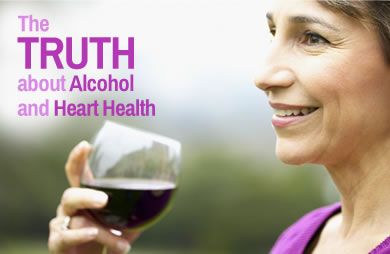 The idea that alcohol may be good for your heart has been around for a while. While moderate drinking may offer health benefits, drinking more can cause a host of health problems. So should you turn to alcohol to protect your heart? Here's what you need to know, from what alcohol can really do, to how much you should drink, to which types of drinks—if any—are healthier than others. Use this information in conjunction with your healthcare provider's advice.

Research on Alcohol and Heart Disease
In several studies of diverse populations, moderate alcohol consumption has been associated with a reduced risk for certain cardiovascular diseases, such as coronary heart disease. These studies were observational—not experimental—and therefore had some limitations. However, they showed the need for experimental studies regarding alcohol intake and heart disease. So in 1999, a meta-analysis was conducted on all experimental studies to date to assess the effects of moderate alcohol intake on various health measures (such as HDL "good" cholesterol levels and triglycerides), and other biological markers associated with risk of coronary heart disease. As research on this topic continued to expand, researchers conducted another systematic review of 63 studies that examined adults without known cardiovascular disease before and after alcohol use. This latest meta-analysis was published in a 2011 issue of the British Medical Journal (get a link to the full report in the Sources section below).

The analysis of these numerous studies suggests that moderate alcohol consumption (defined below) helps to protect against heart disease by:
Raising HDL "good" cholesterol
Increasing apolipoprotein A1, a protein that has a specific role in lipid (fat) metabolism and is a major component of HDL "good" cholesterol
Decreasing fibrinogen, a soluble plasma glycoprotein that is a part of blood clot formation
Lowering blood pressure
Reducing plaque accumulation in the arteries
Decreasing the clumping of platelets and the formation of blood clots
However, these studies did not show any relationship between moderate alcohol intake and total cholesterol level or LDL "bad" cholesterol. And while some studies associated alcohol intake to increased triglycerides, the most recent analysis of moderate alcohol intake in healthy adults showed no such relationship.
Continued ›
Article created on: 7/12/2011