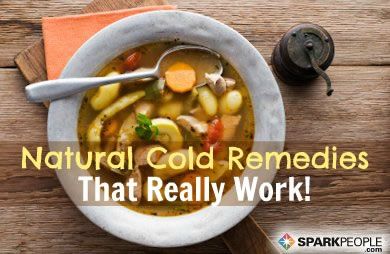 Let's face it: No one has time for a cold. In addition to making us feel miserable, colds destroy our schedules. Work, family, errands—they all have to wait while we get better. Or even worse, we have to carry on despite our achy muscles, headache and sore throat when all we want to do is curl up in bed.

So it's no wonder that Americans spend billions each year to prevent and treat colds. But are we getting our money's worth? That depends. There is a dizzying array of potential cold therapies, conventional and alternative. Some we take out of habit, because our parents gave them to us; others because a colleague swears by them. But really, the best way to choose a cold remedy is to look at the evidence. What can published research tell us about herbal cold remedies and over-the-counter medications?

Vitamins: Supplements or Foods?
Whether preventing a cold or speeding recovery, a strong immune system is the answer. One of the most common supplements used to boost immunity is vitamin C, yet there is conflicting evidence on whether taking vitamin C supplements can prevent colds or not. A recent report suggests that it doesn't prevent them, but it might help reduce the severity of the symptoms.

However, a comprehensive review conducted by Harvard researchers found that vitamins B, C and E, as well as antioxidant carotenoids, do contribute to enhanced immune function.

Furthermore, there's some interesting research showing that foods that are high in vitamin C and other nutrients can boost immunity. One study tested a concentrated fruit and vegetable juice powder and found that it reduced DNA damage in immune lymphocyte cells and boosted the number of immune T-cells, both critical functions in fighting a cold. The concentrated powder increased levels of vitamin C and carotenoids in the body.

For cold prevention and treatment, I recommend a multinutrient supplement with food-based sources of vitamins A, B, C, D-3, E and minerals, and a diet emphasizing super foods such as brightly colored fruits and vegetables. By combining food-based supplements with powerhouse produce, you can cover your nutritional bases with optimized sources of critical immune-boosting vitamins, minerals, enzymes and antioxidants that are available in nutrient-dense natural foods.

Zinc: The Essential Immune System Mineral
With its ability to impact a variety of mechanisms, zinc is one of the most important minerals for immune health. In fact, zinc deficiency can damage important immune cells, particularly T and Natural Killer cells. Two studies in particular, both conducted on elderly patients, show the importance of zinc for immune health. Zinc deficiency is common in older adults and may contribute to immune issues, including poor response to vaccinations. In one study, zinc supplements improved collective immune response.

Continued ›