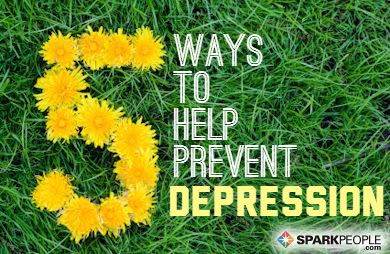 If you've been sad or "blue" due to a prolonged illness, the passing of a friend of family member, or other unfortunate circumstances, you've probably experienced some of the symptoms of depression: prolonged feelings of grief or hopelessness; an inability to concentrate; changes in your appetite or eating habits; or excessive fatigue, irritability and restlessness (to name a few).

For some, challenging life experiences can lead to depressive symptoms, but in other cases, people can become depressed without experiencing a specific triggering event. In fact, because some symptoms of depression overlap with symptoms for many other ailments, people who don't have the stereotypical symptoms of depression may not even realize they are depressed.

Can Depression Ever Be Prevented?
Depression can't be prevented in the same way you can wash your hands to prevent catching a cold. What we know for sure is that depression has many causes, some of which we understand, and some of which we do not. It's a complex illness and your susceptibility to depression is often outside of your control, especially if you have a family history of the disorder. But in many of the same ways you can strengthen your immune system to avoid getting sick, there are certain steps you can take to help reduce your chances of becoming (or staying) depressed.

Here are some simple steps that could bolster your body's "defenses" against depression.



6 Healthy Habits That May Help Prevent Depression


Eat a Balanced, Nutritious Diet
Limiting preventable risk factors, like poor nutrition, is one way to thwart depression. Deficiencies in certain nutrients have been correlated with depression. A 2005 study found that depressed women in their childbearing years tend to be deficient in nutrients like folate, vitamin B-12, iron, zinc and selenium. Other studies have demonstrated a potential link between a lack of Omega-3 fatty acids and depression symptoms.

Maintaining healthy eating habits and consuming enough calories to ensure adequate nutrient intake is an important step in keeping your body and mind functioning optimally. Although no vitamin supplement can "fix" a poor diet, taking a general multivitamin/mineral supplement may also help cover your bases of key nutrients, especially if you are following a reduced calorie diet. (Talk to your doctor if you're depressed and trying to lose weight.) Learn more about the links between diet and depression.

Exercise Regularly
People who don't exercise miss out on the physical and mental benefits of regular activity. Exercise reduces levels of stress hormones such as adrenaline and cortisol, and also releases feel-good endorphins that boost your mood. Working out even helps regulate your sleep patterns, offers a means of natural pain control, and has even been shown to boost a person's self-confidence.

Continued ›