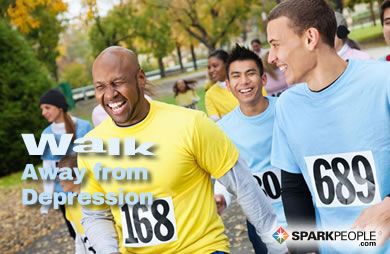 The idea that regular exercise can improve symptoms of depression and anxiety is not new. Hippocrates was the first Western physician to prescribe this treatment 2,500 years ago, and doctors have been recommending it to their patients ever since. All the evidence accumulated by modern science says it works. If you suffer from major depression, exercise probably won't be the only treatment you'll need, but it will help along with your treatment plan. Whereas medication and counseling can take weeks to work, you can start feeling the positive effects of exercise right away.

Anti-depressant medications that affect levels of the brain chemicals serotonin and norepinephrine appear to reduce the negative feelings and thoughts associated with depression, as well as many of the physical symptoms, such as changes in appetite and sleep, fatigue, muscle tension, and soreness. But people react differently to medications, seeing changes in some areas but not others. Some don't respond to these medications at all. Exercise can enhance the benefits of antidepressant medications, and even produce similar results.

Research shows that exercise:
Positively effects the same neurotransmitters that antidepressant medications target
Produces feel-good brain chemicals called "endorphins," which promote the sense of well-being and satisfaction
Releases tension in muscles that contributes to depression-related soreness and insomnia
Reduces levels of the stress hormone cortisol, relieving feelings of anxiety and agitation
Raises body temperature, which appears to have calming effects
In addition to these physiological benefits, exercise can promote the following psychological and emotional changes:
Distraction. One of the most debilitating effects of depression is that it causes you to focus on what's wrong and dwell on the negative. Exercise compels you to focus on something else for a little while. With the right approach, it can help you find some pleasure in a sea of apparent troubles.
Confidence. The hopelessness, helplessness, and fatigue that come with depression often cause people to withdraw from normal activities and pursuits, leading to a loss of self-confidence. By setting and meeting a goal, like a small amount of exercise each day, you can begin to rebuild confidence and self-efficacy.
Self-respect. As people sink deeper into withdrawal and inactivity, they begin to feel useless and worthless, and may even come to despise themselves. They may resort to substance abuse or other self-destructive behaviors to manage these feelings. Exercise can provide a positive alternative to these negative coping strategies. Taking the time to do something positive to help yourself every day can help you reconnect with the part of yourself that wants to be healthy and productive.
But if you're already depressed, exercising may be the last thing you want to do. You may feel fatigued and pessimistic, thinking that exercise won't be able to help you. These thoughts are normal for people with depression, part of the "mental battle" you'll face when considering a fitness program. Here's how to overcome them.

Continued ›
Article created on: 3/6/2007