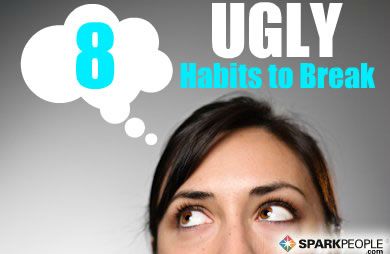 With so much focus paid these days on our physical looks, it's not difficult to overlook actions and mentalities that can put your overall appeal in a tailspin--despite your outward appearance. It's definitely worth taking a look at some of the ugly things we do and think that are more obvious to others than ourselves. Once you get past the physical in order to begin addressing the following negative behavioral and mental patterns, you can make changes that increase your attractiveness, and lead to more success in all types of relationships.


4 Ugly Behaviors to Stop


You might find it quite easy to spend more time primping in the bathroom before going out than to make a conscious effort to think about your actions while you're in public. Here are four bad habits you should break before you turn off the people you'd probably much rather be attracting.

Social Smoking
By now you should know that cigarettes are bad for your health. But even though this is common knowledge, smoking is still a bad behavior some of us need to break. Even if you're not a two-pack-a-day smoker, there are consequences for the social, just-puff-when-I-drink smoker. Cigarette smokers now make up only about 19 percent of the adult population. And with 81 percent of people not lighting up, you never know when that once-in-awhile cigarette is going to limit your chance for friendship, or even romance. Smoking not only decreases your curb appeal, but also makes you physically less attractive by causing wrinkles and thinning facial skin, as well as yellowing teeth and fingers.

Booze Binges
It seems that alcohol is intertwined with almost all social situations. We use it to relax, celebrate, commiserate and more. Still, no matter how many messages on moderation we hear, it's easy to get caught up in the fun and go overboard. And, it isn't pretty. Ever. If you're overly-intoxicated, you could turn off a lot of onlookers. Or, you could even become a target for a not-so-nice person. It's important to know your limits, stick to them and have good friends on hand who will look out for you.

Constant Phone Chatter
When was the last time you used a payphone? Never? There's a good reason for that: everybody has a mobile phone! And most of these phones are of the "smart" variety that give us instant access to the web, social networking sites and a myriad of useful, fun apps. With all that information constantly at your fingertips, it can be easy to disconnect from your real- surroundings. This behavior can become a pitfall in social settings--building digital walls that prevent meaningful connections. So, post that picture later! Lingering eye contact across a busy room, real engagement and conversation will always be more appealing to those around you.

Persistent Gossiping
Though gossip can be a bonding tool within a group, it's important to think carefully before you engage in this bad behavior. Gossip can just as easily divide you from a group of friends or coworkers as it causes people to take sides. In addition, the consequences of gossiping will paint you in a judgemental, unprofessional light. When in doubt, biting your tongue and abiding by the Golden Rule is your best bet!
Continued ›
Article created on: 5/13/2013