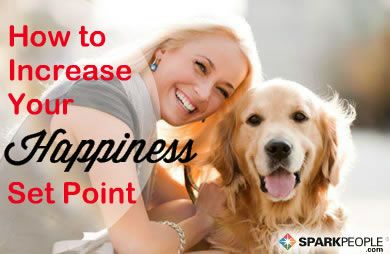 This morning I looked out my kitchen window at the pouring rain, and thought, "Oh good, this rain will really help the grass grow."

My husband entered the room, and with disgust lamented, "What a miserable day!"

Later today, while coaching a client, she complained, "I can't ever get anything done. My daughter calls me three or four times a day to tell me such unimportant things."

"Wow," I replied, "How nice that you and your daughter are so close."

How do you approach your world? Most of the time, I look for and see the positive side of things. I'm always searching for the silver lining in life's challenging events.

Many of my friends feel that I am an optimistic and happy person by nature. While I am sure that both nature and nurture have something to do with my disposition, the more I learn about the science of happiness, the more I realize that I have intentionally fostered these feelings in many of my actions.

All of us want to be happy, but few realize how much that feeling is within our control. We think our circumstances dictate our personal level of happiness. This often sets us up for a frustrating approach to life. We are constantly striving for the things that we believe will make us happy: a new job, a bigger home, a better body, or a different mate. If we achieve those things we believe will make us happy, often the feeling is not sustained. All the positive emotions that come along with accomplishing such goals tend to fade quickly as life returns to routine, or new objects soon become old.

Historically, most psychologists were pessimistic about the notion of permanently increasing happiness. It was believed to be inherited and extremely stable over the course of people's lives, and that circumstances had the ability to shift happiness in one direction or another, but only temporarily.

So for the individual who considers himself or herself a very happy person, personal tragedy will temporarily cause unhappiness. But with time, that person learns to adjust to the new reality, and eventually will call themselves very happy again.

We all know someone who seems melancholic all the time, blaming their outlook on a lack of a spouse, or lousy job, for example. Then they find their dream mate and marry, or land the fantastic new job. Rather than living happily ever after, within a small time frame, they are melancholic once again. The reason has changed, but the temperament hasn't.

Continued ›