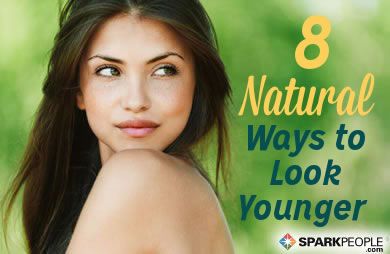 Chances are, you know her. Your eyes probably turn green with envy as soon as she walks into the room. She's the one who consistently looks effortlessly beautiful without makeup. She's most likely your age (or older), yet looks younger than you. Her skin always glows. Her smile lights up even the most overcast day, and her positive energy is contagious. You've probably told yourself, "She's had work done," or, "It must be good genes!" But what if I told you that anyone can achieve a healthier, more youthful appearance without turning to a cosmetic surgeon or using any magical beauty products at all?

Simply paying attention to your body's needs and keeping up with a few healthy habits can help you get that gorgeous glow women long for. And trying the following tips will not only help you look radiant, but feel better on the inside, too!

Eat Clean
One of the best ways to achieve positively glowing, younger-looking skin is to focus on what you're putting inside your body. If you've been a part of SparkPeople for a while now, you should know how important it is to eat your fruits and vegetables to achieve optimal health. And this goes for your body's overall health--including your skin. Avoiding processed foods and eating a nutrient-rich diet filled with dark, leafy greens (like kale), root vegetables (like sweet potatoes), fruit with high antioxidant content (like blueberries and raspberries), fiber-filled nuts and whole, gluten-free grains can help your skin look more supple, minimize fine lines and even out your skin tone. Try these easy ways to meet your daily fruit and vegetable quota to reap the rewards of gorgeous, radiant skin.

Drink Your Weight in Water
Want to look younger and feel more energized? Put. Down. That. Soda. Soft drinks are still the most popular beverage in the United States. And what is taking up the number two spot? Water. This is quite scary considering that our bodies are roughly 60 percent water. Sugar-laden soft drinks and even their diet counterparts can dehydrate the body, which results in fluid imbalance, less energy and even breakouts. Drinking the recommended eight glasses of H20 every day will not only hydrate your skin and other important organs, but also maintain your body's fluid balance.

And when your body's fluid is in a balanced state, you can absorb more nutrients from good foods, digest your meals properly and regulate your body temperature. This means a healthier you will emerge from the inside, out! Water can also flush your body of toxins which, in turn, clears up blemishes, leaving your skin softer, smoother and younger-looking. Bonus: Drinking water can give you energy boosts throughout the day, so reach for another glass of water instead of coffee or soda when you're feeling tired and groggy mid-afternoon.


Continued ›
Article created on: 4/15/2013