Bring Your Own Snacks to Share
You don't have to be a great cook to whip up healthy party appetizers for tailgates or back-yard get-togethers. Use some of these simple tricks to lighten up traditional party foods.



1. Use fat-free Greek yogurt in recipes that call for mayonnaise or sour cream.

2. Use low-fat milk or cheese in recipes that call for full-fat versions.

3. Bake foods like chicken wings or sweet potato fries instead of frying them.

4. Serve salsa with sliced veggies instead of a creamy dip.

5. Make fruit fun and easy to eat by cutting it into bite-sized chunks and threading it onto bamboo skewers.


Our Favorite Football Fan Foods
Your friends and family will thank you if you take the time to cook up a healthy and delicious party dish to share in the parking lot or the living room. Here are 15 of our faves.

Dishes to Share

Football Chili: It wouldn't be football season without chili. This version features a combination of lean ground beef, lean ground turkey and Italian sausage for maximum flavor.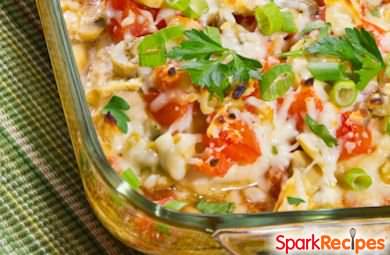 Buffalo Chicken Mac n Cheese: Whole wheat pasta, more veggies than you'd think and chicken breast combine to make a tasty, healthy version of this fan favorite.




Italian Meatloaf Roll: Easy to throw together and even easier to share, this meatloaf is stuffed with spinach for a veggie kick.




Mexican Lasagna: Easy to make for a crowd, but with fun Mexican flavors, this dish will be a party hit.




Tofu Queso: No will know this "queso" dip doesn't actually contain any cheese. We won't tell if you don't!




Continued ›