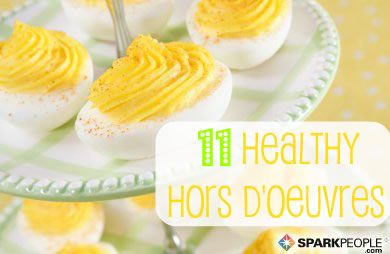 Did you know that overindulging on the weekends can lead to a weight gain of nine pounds a year? To stay on track and still have fun with friends and family, serve some of these healthier party foods. (Click on each appetizer for a wide selection of healthy recipe options.)

Pin this graphic, then scroll down for more details and recipe links.




Bruschetta (45 calories; 2 g fat per piece): Traditionally, this starter is made with thin slices of toasted bread rubbed with garlic and topped with tomato and basil. Get whole wheat or multigrain baguettes from the bakery. Have them slice the bread for you—they'll be thinner and more uniform.

Smoked salmon mousse (75 calories; 3 g fat per serving): In a food processor, mix 6 ounces smoked salmon with light cream cheese, some dill, lemon zest and juice, and a handful of capers. Mix until creamy, then spread on sliced baguettes and top with a thin slice of English cucumber.

Salsa (50-75 calories a cup): Jarred or homemade, spicy or mild, this is a no-fail appetizer. Serve it with baked or whole-grain chips, vegetables or pita chips.

Guacamole (75-80 calories;, 7 g fat per 1/4 cup serving): These dips are full of filling and heart-healthy fats! Increase your vegetable intake by adding extra chopped tomato, onion and bell pepper, plus cucumber.

Shrimp cocktail (10 calories; 0 g fat per shrimp with a tsp of cocktail sauce): Shrimp is lean, and each one has 1 gram of filling protein. Protein takes longer to digest and keeps you fuller, longer.
Continued ›
Article created on: 1/27/2009